Excess 15
Asking Price
NZD $1,300,000
Binx offers world cruising at impressive speed with huge levels of interior and exterior comfort. With plenty of room for friends and family in a 4 cabin 4 head configuration. With huge storage potential in 2 utility rooms for all of your Pacific adventure cruising equipment. 
Powerful sails will carry you well into the 200NM per day range when offshore, allowing quick trips to the Pacific islands as well as to your favourite local cruising destinations. 
Enjoy panoramic views at your tropical anchorages with the impressive saloon styling, following natural light through into the light beautiful timber interior finish makes Binx a true floating hotel. 
The Excess 15 is a catalyst model and encompasses the very spirit of Excess in a new age of multihull design. Purchasing a catamaran should no longer be restricted to the choice between comfort and performance and the Excess 15 makes no exceptions to this. Aesthetic and sporting, the 15 beautifully balances contemporary design with superb performance. With a modern interior, bright and spacious living spaces, functional exterior and rig; The Excess 15 is a world-class boat. 
$1,300,000 + tax if appl!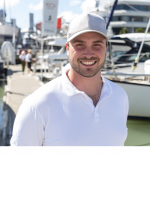 For Full Inventory Contact:
Harry Clark