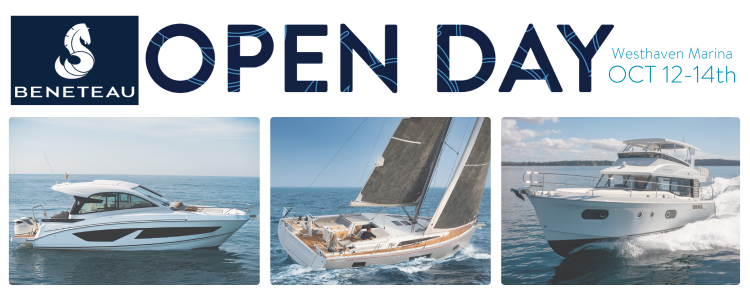 Beneteau Open Day: An Invitation to Board!
21 September 2023 | 36 Degrees News
Set sail into a world of nautical innovation and excellence as 36° Brokers and Family Boats cordially invite you to discover BENETEAU's newest line-up of power and sail vessels.  Step aboard and witness the epitome of on-water perfection!
Boasting a remarkable legacy of over 130 years in boat building, BENETEAU stands as an unrivalled benchmark for innovation in nautical design and production technology. These vessels are celebrated for their versatility, top-notch performance, and an unwavering commitment to quality, ensuring every voyage is extraordinary.
 An impressive array of models that embody BENETEAU's renowned innovation and cutting-edge design will be on display. These include some of their latest, award-winning creations that promise to redefine your boating experience.
Dates:
Thursday          12th October     12pm - 6pm
Friday               13th October     12pm - 6pm
Saturday          14th October      9am - 5pm
Location:  Westhaven Marina, Auckland - Outside the new 36° office. Piers K & L.
This three-day event is open to all and is set to leave a lasting impression!
PLEASE REGISTER YOUR ATTENDANCE HERE!!
On show will be Swift Trawler 48 & 41, the Oceanis 30.1, 46.1 and the very exciting recent arrival of the much anticipated First 36.
Our friends at Family Boats are set to showcase some of their most loved Antares models.  
The Yacht Collective will be displaying their new arrivals.  Chat to the team about their 1/6th Share opportunities; a great opportunity to go boating at a fraction of the cost.  With vessels available NOW and on order, sign up for syndication in 2023!  It's the ultimate way to own a boat!
Don't miss this opportunity to embark on a journey of maritime excellence.  Mark your calendars and set your course for the 36° Brokers and Family Boats event, where BENETEAU's latest vessels await your exploration.  Come aboard and be part of a world where innovation meets the open sea, where passion and performance unite.
PLEASE REGISTER YOUR ATTENDANCE HERE!!