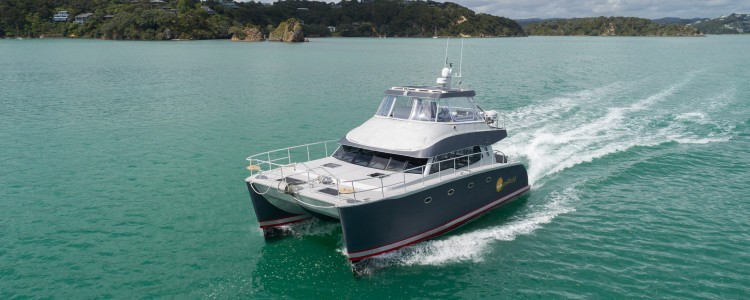 Summer journey for Tennant Open Ocean 46
14 March 2018 | 36 Degrees News
With a freezer full of fish and a glorious day to meander back into Opua, the cruisers on Tennant Open Ocean 46 'Garfield' looked more than content arriving back from their two-week voyage last week. 
The trip had been planned for months and was originally intended to take in the sights of White Island.  Although the weather didn't permit them to get there this time, there was no shortage of other beautiful bays and islands to enjoy while at sea.
"The concept of a trip to White Island started on our last fishing adventure on Garfield. My fishing mate was looking for new worlds to conquer and when I mentioned I had visited White Island many years ago on a yachting circumnavigation of New Zealand he was all ears," explains the owner. 
Starting out from home base in Opua, Garfield hopped down the coast to Whangarei, then on to Great Barrier, Arid Island, and Shark Alley anchorage before venturing on to the Mercury Island Group. They reached Mayor Island with the plan to head out to White Island once the dreaded North Easterly and huge swells had subsided. And although they didn't quite make it to White Island this time, Garfield proved her true offshore pedigree when up against 30 knots of North Easterly in the Colville Channel on their way back to Great Barrier.
"Lots of water over the boat but nothing sold thanks to our high sides!" the owner commented.  
With plenty of fishing, exploring, and catching up with friends along the way, the trip still allowed the pair to make the most of the ocean going vessel's numerous perks.
With just under 500 nautical miles covered during the entire trip, the owner explains their fuel burn was just over 1200 litres for the two weeks they were away.
"This gave an average burn of 2.5 litres per nautical mile which was pretty impressive given that part of that time we would have been running at up to 17 knots," he adds.
The fuel and water capacity aboard Garfield means she can cruise for long periods of time without re-filling, and this gives peace-of-mind while cruising. Built strong and designed for low maintenance, Garfield has a full sized fridge-freezer as well as generous saloon, cabins, and outside area.
This meant the trip down the coast was done in absolute comfort with the boat proving once more her long distance cruising capabilities and style.
On the market and waiting for her next loving owners, Garfield is the perfect vessel for anyone wanting a modern, practical, low-maintenance and comfortable place to call their on-water home.
A hefty price reduction has made this attractive package even more appealing, which sees Garfield now available for $890,000NZD