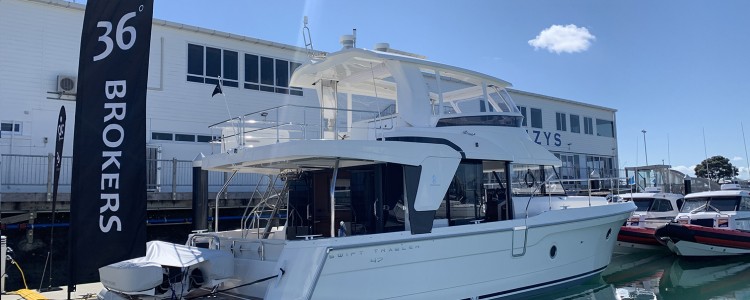 RNZYS Opening Day Showcases the Swift Trawler 47
27 October 2020 | Beneteau
36 Degrees Brokers are thrilled to have showcased the all new Swift Trawler 47 at the recent Royal New Zealand Yacht Squadron Opening Day. Positioned at the Squadron's event dock, members were able to take the opportunity to watch her cruise in and out and join us onboard for a full tour in what was a stunning day on the water. 
A great day was had celebrating the Squadron in a fun fuelled day of competitions, music, cannon fire and much more! 36° Brokers staff enjoyed welcoming a range of people onboard to see this exciting new vessel and the response received was fantastic.
The Swift Trawler range is shacking up to be a hugely successful model for Kiwi boaties, and we are proud to have the chance to showcase this model to a new audience. A great option for Yachties wanting to make the step into the power realm, the ST47 is hugely popular for her easy, safe and functional layout that is highly efficient underway.
36 Degrees Brokers are excited to announce two new Swift Trawler's are on order and on their way to New Zealand for a 2021 delivery. We are excited to watch this trawler family grow in New Zealand and look forward to showcasing new release models in future.