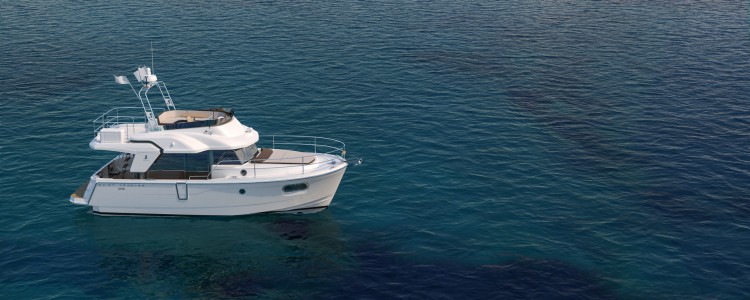 New Swift Trawler 35, as smart as ever 
14 September 2017 | Beneteau
Beneteau is soon to announce the launch of it's stylish and modern Swift Trawler 35. This long range cruiser succeeds the highly popular 34-foot model which came out eight years ago. The new Swift Trawler is spacious, safe, and due to debut at the upcoming Southampton and Annapolis boat shows.  
Built on a semi-planing flared hull and developed with Beneteau Powerboat's expertise, the Swift Trawler 35 has a Cummins 425 HP engine. Protected either by a soft top or a Bimini, the flybridge emphasizes the boat's harmonious profile yet marks her distinctive long cruise temperament. Broad walkways, lots of hand rails and high pushpits reveal the attention to safety on board. The Swift Trawler 35's wheelhouse has a 360° view for awesome visibility from the drivers seat.
For optimum comfort whatever the weather, the Swift Trawler 35 has opted for a modular exterior. Continuing to the far end of the starboard gangway, the awning closing off the cockpit unfolds quickly and easily from the flybridge structure. The emphasis on protection is echoed on the flybridge's semi-hard Bimini which has built-in LED's. The stainless steel arch features Beneteau's signature mark and can be used to support antennas and flags.
The Swift Trawler 35 is designed to offer more space on board, so the flybridge easily seats six people around the table. This comfortable roof-top living area comes with an optional fridge, duplicated helm station, a rotating driver's seat and a double sun-lounger at the stern.
The Swift Trawler 35's interior is as elegant as it is practical, with matching teak and Efficiency© upholstery which can be easily maintained. The owners cabin is reached through a gullwing door making it easy to move around. The second twin cabin with bunk beds has a spacious and fully fitted shower room with independent shower. The sofabed in the saloon provides an extra berth at night and it can be shut off from the wheelhouse by a curtain. 
The U-shaped galley opposite the driver's seat has benefitted from considerable attention to detail. With a high level of equipment and ingenious ideas, such as a built-in seat or double sink converting to a second worktop, everything is designed to simplify life on board and enjoy every minute.  
As the Swift Trawler 35 is designed for long-distance cruising - safety and autonomy come first. This is why she has two large water tanks, each with a capacity of 400 liters, and two greywater tanks. Providing twin tanks mean that she handles flawlessly. 
Ingenious, elegant and reassuringly safe, the Swift Trawler 35 promises to be sure value in a range that has inspired many a long distance cruise, since it was launched in 2003.