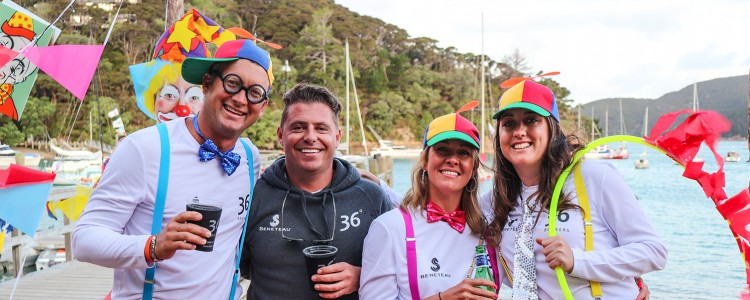 Clowning Around at 36 Degrees Squadron Weekend
21 February 2020 | 36 Degrees News
Lions, bearded ladies, jugglers and more all came together for a Circus filled weekend of tricks, flips and more fun for this year's 36 Degrees Commodore's Cup Squadron Weekend.
After an exciting two days racing, patrons got together at Ladgard House in their best circus attire as we danced the night away in what was a weekend to remember.
The 36 Degrees sponsored Commodore's Cup got off to a bang with a breezy start to the race from Auckland Harbour where a friendly visit from America's Cup Boat Te Kāhu kept everyone on their toes. The night race ended in beautiful and busy Smelting House Bay with Lidgard House lit up beautifully in the background and ready for the following day's festivities.
Windy conditions made for an excitement fuelled Saturday race around Kawau Island. A swift return to Smelting House Bay left plenty of time for patrons to don their best attire and get set for the evening's festivities.
The event was a great opportunity to meet and mingle with other boaties, attracting both Power and Sail lovers alike. Great food and live music kept the crowd well entertained through the night.
Competition prizes were given to race winners as well as a rather hilarious showcase for the best dressed patrons. Little Sienna stole the show with her cartwheeling catwalk, taking out best dressed female in the category.
36 Degrees are incredibly proud to support the Royal New Zealand Yacht Squadron Commosore's Cup and see the strength of the local boating community grow year on year. Next year will be the 36th America's Cup year and we hope to see an ever bigger turn out of people there to celebrate all things Kiwi yachting.