Outremer 45
Asking Price
EUR €349,000
We are very pleased to offer on the market today TORFUYOU, an Outremer 45 Danson built in 2000. She is now lying in New Caledonia.
This legendary catamaran and bestseller from the shipyard Outremer have impressed all serious blue water sailors by her reliability, simplicity and speed.
Well balanced and easy to manoeuvre thanks to her reduced weight, which allows less sail area but still keeping the speed up with an important safety margin. Offered in a three double cabin version, plus a fourth cabin with twin single beds and a head in each hull.
The engines are almost new, as well as the sails and also the electric circuit with the electronic navigation instruments. Equipped with a water maker, two powerful solar panels, LiFePO4 batteries, a rigid bimini and the recent survey confirm the boats overall excellent general condition.
Perfect for live aboard or immediate departure for a circumnavigation without any more works to be done.
Call Laurent +64 21 424 789 to get more information and organise a viewing.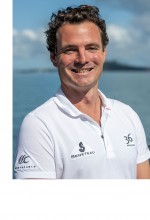 For Full Inventory Contact:
Laurent Boudou