Nissen 54
Location
Tahiti, French Polynesia
A luxury ocean cruiser, this Nissen 54 aluminum yacht, was created in the Netherlands by the famous Dutch shipyard FOLMERS/CLAASEN. Its unparalleled build quality and luxurious finish make it perfect for ocean expeditions.
MARY ANN's elegant lines and the beautiful teak deck are in excellent condition, and the comfortable interior makes her an exceptionally attractive yacht. The quality of the workmanship and strength of the yacht are evident throughout.
The central cockpit flows through to a large aft swim platform that opens up for easy access to the water.  A specific dive compressor compartment can accommodate four dive bottles.
She's cutter rigged, with oversized deck fittings making her easily handled even when sailing short-handed, while the 54-foot length of her hull gives great boat speed and provides a smooth sailing motion. Thanks to the swing keel that extends from 1.5m to 3.7m depth, this allows plenty of room to tuck into those shallower spots whilst maintaining the stiffness of the yacht required for upwind angles and speed. 
This vessel is fast, safe, and pretty and a great option for adventurous world travel.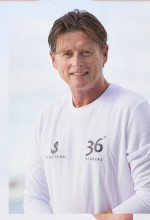 For Full Inventory Contact:
Eric Pinel-Peschardiere