The sleek, sporty appearance of Namaka along with her expansive cockpit, and sumptuous interior, provide plenty of space for spending valuable time enjoyed with loved ones in both elegance and comfort.


The cockpit's wealth of seating room enables you to unwind in style, whether you're hooking a cheeky fish off the swim platform or tossing some food on the grill.


The helm station is located directly in front of the enormous cockpit, allowing you to make the most of your excursion while soaking in the magnificent sea views and interacting and conversing with friends and family.


Walking down through the beautifully furnished galley and living area will reveal an immaculately maintained space. The sickle-shaped sofa in the salon comfortably seats a group for meal times and accommodates two when transformed into a bed.


This vessel can easily sleep up to six people thanks to its roomy two-cabin configuration and pull-out couch sleepers.


You'll arrive at your destination in luxury and style, thanks to her Twin Cummins Shaft V-drives, as she cruises at a leisurely 23 knots.


Interested in exploring more or are you eager to embark on your next adventure? Contact us now for an extensive inventory!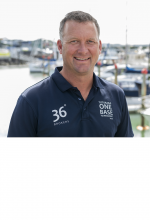 For Full Inventory Contact:
Conrad Gair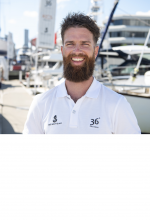 For Full Inventory Contact:
Trent Stillwell