The Pogo 40, designed by renowned architects Finot/Conq and was born at the same time as the inception of the Class 40, and the first model won the 2006 Route du Rhum. Fast and proven reliability are just two of the key points when considering one of these vintage category Class 40 designs. More than 45 of these first-generation Pogo 40 were built with proven race records in both fully crewed and shorthanded configurations.
Thanks to an ergonomic cockpit and deck layout, she is simple to sail single-handed or with a reduced crew. She is easy to maintain, reliable and unsinkable. This is the 'S' model which has the infused composite structure making for a stiffer lighter structure. With the Pogo 40, you can line up with goals of winning at the start of any one of the international offshore races, suitable for either amateur or professional crews, or, you can just take your family on a long-distance trip across the Atlantic during a sabbatical year.
Ideal as an entry-level shorthanded racing yacht or as a very fast cruiser for adventurous families. A great opportunity to pick up a well-maintained and fitted out Class 40 S2 with a good inventory, afloat and ready to go sailing.
LE TIROFLAN is a former Class40 boat that has sailed until 2019 with 2 routes du Rhum (7th and 12th), 2 transat-Jacques Vabre (twice 5th), and 1 Quebec Saint-Malo (9th).
After her purchase in 2021, she benefit from a complete interior fitting out for a half round the world project in fast cruising. The boat was built in Port Camargue and underwent a complete overhaul with updated equipment for ocean cruising.


All the fittings are entirely removable to allow a return to the class 40 state according to the project.
Get in touch with the team today for a full Inventory.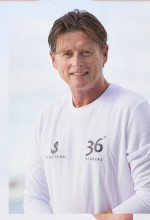 For Full Inventory Contact:
Eric Pinel-Peschardiere