Calling all interested parties to the table, the owner is relocating overseas and says the boat must go!!!!.
All parties interested at $95,000 and above!
Up for tender is the well-accommodating Mitonic. A Pelin/ Upfold design Mitonic is a well-built, strong, and voluminous design ready for new owners to take her on new boating adventures.
Tender closed - please get in touch with Harry for further details.
- New Shafts
- Updates flybridge electronics
- New oven
- Up to date on all servicing
- New prop speed & antifoul
The boat is located in Pier 21 Westhaven at the 36 Degrees Brokers office.
Viewings MUST be organised prior to viewing time with the Broker. (NO BOOKING NO VIEWING)
Get in touch with Harry today for more information or to book your viewing.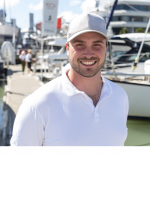 For Full Inventory Contact:
Harry Clark