Outremer 55 Light
Asking Price
EUR €395,000
These Gerard Danson-designed Outremers built in the early 2000s are respected and sought-after world voyaging catamarans. Their formula for success is simple: narrow hulls, strong and simple construction, powerful sail plans, daggerboards for windward performance, and low-maintenance exterior and interior.
Built in 2006 (HullN°30) she is a third-hand boat, never rented or chartered. A lot of modification has been made by the French manufacturer for the owner: she is the only Outremer 55 Light made in Vacuum system (which is the standard construction nowadays) and benefits from 2 x 54hp instead of 2 x 39hp. Carefully maintained by her 3 owners, she keeps daggerboards as all Outremer and is accommodated in a rare 3 cabin version + workshop (including Generator, watermaker, fridge system, and tools). Built for autonomy, easy cruising, and simplicity, this particular Outremer 55 Light has been created for a dedicated blue water cruising trip. Its bow has been modified to improve its passage at sea.
Words from the owner/history:
"Professional skipper for more than 40 years, I had long dreamed of acquiring an Outremer 55 L, which seemed to me to be one of the most successful ocean cruising catamarans. It was done at the beginning of 2020. With this boat, I started by doing a transatlantic return trip from Panama to Sete in February and March 2020 in solo. Cuba Gibraltar in 20 days at 200 miles average daily. Arrived in Sete on 16/03/2020, and I was picked up by the Covid restrictions and the confinement and it's only 18 months later that I started my trip to the Polynesian islands. After a few months of preparation, I left Sète at the beginning of 12/2021 for a trip to the Marquesas Islands which I reached at the end of 07/2022. Since then I have been wandering around the Polynesian archipelago. Unfortunately, a sudden change in my life does not allow me to continue this trip and it is with regret that I must part with her »
Survey done in march 2023, available on demand
European Tax paid!
*Price plus NZ taxes if applicable.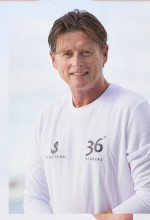 For Full Inventory Contact:
Eric Pinel-Peschardiere