A favourite amongst families, fisherman, and entry boat enthusiasts alike, this iconic Kiwi-built Genesis 360 Targas, certainly stands out from the crowd.
The contemporary design is characterised by flowing open spaces and stylish elements to create a sleek yet carefree sports cruiser.
Guests can relax, and take pleasure in enjoying alfresco dining aboard, as this hassle-free vessel is perfect for socialising and entertaining friends and family. 
This 360 is ready for cruising after recently getting a big service and 2017 stern legs.
Powered by twin 210hp Volvos, she easily cruises at an economical 22 knots, meaning you spend less time trying to get there, and more time manning the BBQ, catching that fish, or swimming off the back!
The ideal weekender for the perfect getaway this vessel is turn-key and loaded with extras, call us today to find out more!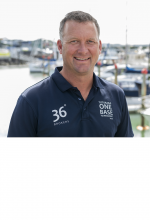 For Full Inventory Contact:
Conrad Gair