FPB 64 Dreamtime
Asking Price
USD $1,995,000
"Dreamtime" is the 4th FPB we have been involved with and the last hull number of the FPB-64's built by Circa Marine, launched May 2016.
Fully optioned and ready to sail, not for the faint of heart these Offshore blue water cruisers were made for tough conditions and handle them even better.
The interior of "Dreamtime" has a lighter wood finish than some of other FPB's we have previously sold, combined with the blue accents and tasteful finishes she oozes a bright and airy feeling.
Optioned with a complete electronic package, FLIR camera and retractable forward-facing sonar she really is ready to go anywhere at a moment's notice.
Dreamtime has completed sea trials and awaits the survey process.
At the CIRCA MARINE shipyard, for more information and inventory contact Shaun at 36 Degrees Brokers.
 *Price plus taxes if applicable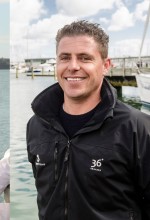 For Full Inventory Contact:
Shaun Sutherland