Kallima was built to the specific requirements of the current owners, who have much experience with bluewater cruising, and for whom this is not their first CATANA. 
This is the first CATANA 30th anniversary model made in 'Carbon Infusion', which gives it increased rigidity and allows for safe cruising in long distances and great sensations at the helm.
Its long saber daggerboards allow it to go upwind exceptionally well, while its nacelle height grants it a very effective crossing upwind. Reaching surprising speeds downwind, make no mistake, this is a boat designed for speed!
This owner's version 3 cabin layout offers very large interior spaces and a hull entirely dedicated to the owner. An impressive list of equipment has been added by the owners, ensuring autonomy and optimal comfort in all seasons and latitudes:
- Volvo engines of 55hp (1600h) allowing a cruising speed of 9knts.
- 600Ah battery park (2014)
- Dessalator Duo of 60L / h (295h) which works as well with solar panels (12v) as on the generator (220v).
- 4kW generator (470h)
- Solar panels (960 watts)
- Hydro - Watt and Sea generator (600w)
- Mainsail in Hydranet accompanied by a Genoese, Gennaker and Spinnaker
- 3 electric winches for sailing with a reduced crew.
The 4.2kw diesel heating system is great for extreme temperatures and will take you anywhere in the world safely and in total comfort.
Meticulous maintenance, she is presented today in exceptional condition by the only owners she has known!
Contact the team today for a full inventory.
*Price plus taxes if applicable.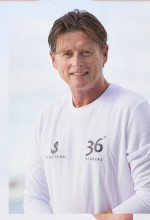 For Full Inventory Contact:
Eric Pinel-Peschardiere