Massive Price Drop! The vendor says the boat MUST go!! Anarchy is seriously for sale!

After 7 years of epic racing – local, coastal, and oceanic, fully-crewed, two-handed, rum-soaked, with many, many highs and lows - it is time for one of Auckland's most successful racing yachts to go to a new home. Mainly because the one careful family owners from the drawing board till now are spending a great deal more of time away from their now second-favourite boat (the other, more popular one is a cruising boat) and their favourite country.
Anarchy is a BW40 from the drawing board of Brett Bakewell-White, built here in Auckland by Yachting Developments. With composite construction, fixed keel, sails by Doyle (inshore and offshore mains, J1.5, J3, J4, some delivery jibs, a delivery main, a structured luff MHO, a BRO, a GS, multiple A-sails, orange storm sails), B&G/Garmin electronics, NZ Rigging carbon rig, current Cat 2 cert, Harken hardware, and lots of cool bits of string for pulling sails up and in, she is built with the postage fully paid and ready for you to send it.

There are no creature comforts at all, down below is a dark and bumpy carbon hellhole, but the reward is epic performance from a totally uncompromising 40-foot racer. This boat can hurt, but also delivers more bang for buck than just about anything on the water. Quite a few spares and some ancillary junk in 2 dock boxes are included. 
The boat was modified in 2019, stretched, and deepened, with the addition of some new paint. And a new mast with carbon standing rigging. Same, but different. A bit lighter and a bit faster. 
The racing record (see photo) speaks for itself, Anarchy is a weapon in windward-leewards, Gulf racing, Coastals, offshore, and short-handed sailing. And the Auckland 40R fleet is far and away the best racing in town. Or in the country.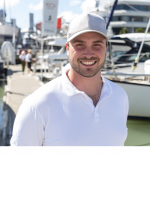 For Full Inventory Contact:
Harry Clark