Brazapi 50
Location
French Polynesia
Liveability merges with superb performance in this one of a kind Brazapi 50. Fast, light and practical was the brief for her design and she certainly delivers on this promise, bow to stern. 
Legendary performance cat architect Eric Lerouge is responsible for her creation and what is a superb performance multihull that slices through open seas, safely and with all the comforts of home.
Current owners selected 'Ivadel' for its incredible naval architecture, epoxy design and kevlar construction which perfectly reinforces in white water, and its lightness with little weight in the tops centred at the foot of the mast. 
Designed for world cruising, speed and its ability to absorb the swell and waves in rough conditions gives great peace of mind on those long ocean passages. Well thought out fittings and fixtures really make sailing single or double handed a breeze. 
The cockpit is simple and free of clutter with a large dining table and ample seating and relaxation space. The large saloon is well protected and can be easily enclosed; perfect for all weather boating. 
At anchor, enjoy time in the galley or entertaining friends at cocktail hour as there is plenty of space to welcome a crowd. Down below 4 cabins and 2 heads have been well crafted and laid out, with excellent storage, lightness and breeze. 
This Brazapi 50 is a truely well designed and crafted luxury vessel, and the ultimate bluewater boat for adventure seekers.
Contact us for a detailed inventory today.
*Price plus taxes if applicable.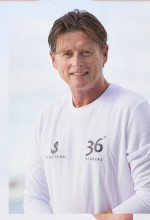 For Full Inventory Contact:
Eric Pinel-Peschardiere