Lovers of luxury, great design and comfort at sea will need no introduction to the acclaimed Azimut 55, a truly sophisticated model designed for maximum comfort and enjoyment on the water.
A must see, the 55 has the design, build quality and performance credibility that makes the 55 a leader in the pack of luxury sports cruisers. 
The stunning interior is a hallmark of Italian luxury, with its beautiful curved seating, gloss finish woodwork and luxury leather lounges. A well-appointed galley doubles as a cocktail bar. Below deck, the master suite and guest cabins are beautifully understated with ample light and air flow.
An entertainers flybridge features a sociable layout and seating, and as Captain you'll never miss a toast with guests on board. The cockpit is generous with comfortable dinner seating. Up forward luxury sunlounges are a great place to share an afternoon apéritif with friends.
Versatile in more ways than one, the Azimut 55 has great performance and stability while cruising at 20 knots, but can happily blast out to your favourite fishing spot at 29 knots. Twin Caterpillar engines, bow and stern thrusters, hydraulic steering and a well-equipped nav station makes her easily handled by owners or crew.
With its great Italian design and practicality, the Azimut 55 has all the comforts needed for luxury cruising and perfect year-round boating.
Contact Conrad today for a detailed inventory.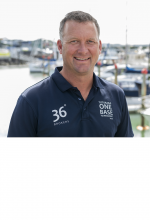 For Full Inventory Contact:
Conrad Gair