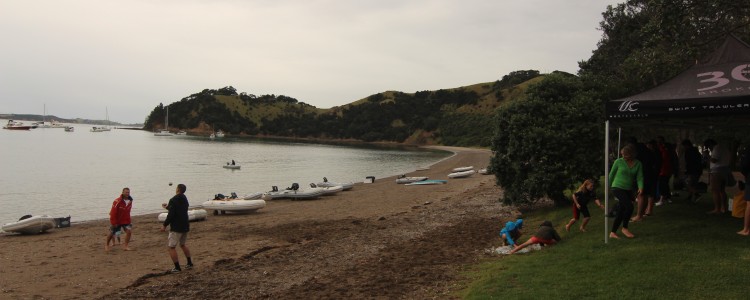 Hauraki Gulf Cruising Hot Spots 2020
9 December 2019 | 36 Degrees News
Planning on cruising the Hauraki Gulf this Summer? Here's six of our favourite spots featuring some of the best anchorages and bays to visit, as decided by our 36 Degrees Brokers network of cruising friends and family. 
As always, the best spots are subjective. They're where the greatest memories are had, special occasions spent, and most glamourous days enjoyed. No two years are the same, and there's always more 'favourites' to be found. 
And with more than 50 islands and five marine reserves within the Hauraki 'Gulf itself, we're simply spoilt for choice.  
Woody Bay – Rakino Island
A great anchorage in all breeze directions except a Westerly,  this bay on Rakino Island has good holding and a sandy beach ashore – great for swimming or picnicking. Our insiders tell us there's also a tree swing on the beach, and plenty of nice walks on the island to get your step count up for the day. The coastline on Rakino Island is beautifully unspoilt and perfect for snorkelling and spearfishing if you're that way inclined. It's also a popular fishing spot where schools of kahawai have been known to frequent. 
Notes from Navionics: Gem of the gulf. Exposed to W quarter wind and NE swell but about the best overnight spot close to Auckland in calm conditions. 
Chamberlains Bay – Ponui Island
Located on the northern side of Ponui Island, Chamberlains bay is a very sheltered bay with good holding, and small boats can tuck right up in close to the beach. Donkeys can often be spotted on the small sandy beach, and the island is also home to a large population of kiwi. Privately owned with a small handful of residents, the 18 square kilometre island has three farms which are predominately used for sheep. 
Man-O-War Bay – Waiheke Island
On the next island over, only 3 nautical miles away is this popular Bay at the eastern end of Waiheke Island – also the home of the Man-O-War Tasting Room. On an island which is renowned for vineyards and wine tasting, this venue offers one of the more relaxed settings. With a beachfront cellar door and a view which extends right over to the Coromandel coastline on the good day, this is an awesome spot to drop the hook, head ashore and enjoy a few vinos. This is a big shallow bay, so keelboats may have to anchor a little further out. 
Notes from Navionics: Anchor approx. 300m off the beach with good holding in 3-5m on sand and shingle. Good in winds from Westerly quarter to North. 
Islington Bay – Motutapu Island
So close to the city – yet a world away. Islington Bay lies between Rangitoto and Motutapu, the two islands are connected by a causeway. It's a great sheltered anchorage and perfect spot if you're wanting to head ashore and venture up to enjoy the views at the top of Rangitoto. 
Calypso Bay – Motuihe Island
On the south-eastern side of Motuihe, Calypso Bay is one of our favourites for good swimming, picnics ashore, and exploring. This island is fairly popular in Summer as there's a ferry service and also a campground, but still harbours it's own sense of tranquillity, with some of the best sandy beaches in the Hauraki Gulf.  There's also great snorkelling to be had around the islands coast, and interesting rock pools to check out too. Anchorage wise, there's generally pretty good holding, but it's not one of the most sheltered bays, so with any foul weather you'd be better off heading across to Waiheke or Islington Bay. 
Otopoto Bay – Waiheke Island
Our second choice at Waiheke Island is this charming beach at the west end of Onetangi. It has great shelter from all wind directions barring northerlies. Head ashore and it's a short stroll to cafes and pubs at Onetangi, and as with any of the stop overs on Waiheke – you're never far from a vineyard if you're keen to sample the islands vino! 
There's so much to choose from when it comes to cruising the Hauraki Gulf. There's a good chance you may see some of our team members on the water this Summer – and if so please feel free to come say hi!
Don't forget about our photo contest either, grab your 36 Degrees Beer Coolies and put them front and centre of your photos to be in with the chance to win big. Click here for more details.