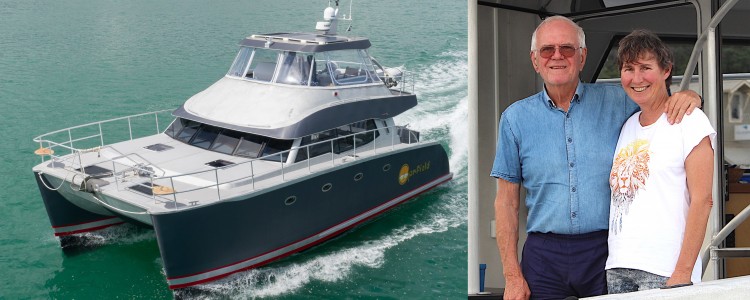 Expanding horizons for new power boat owners
19 March 2019 | 36 Degrees News
When it comes to travelling, the McCarron's are all about diversity. 
The Australian couple have driven boats, motorbikes, gas air balloons, and planes over their lives, and can now add power catamaran 'Alley Cat II' to the list. 
Formerly known as 'Garfield', the Tennant Open Ocean 46 built in Opua, Bay of Islands, marks the fourth boat for Queenslanders John and Tanys to own. 
It's their first power boat in a long journey of sail and multihull ownership, and this one has brought them back to being a "one-boat family". 
For a while they had both 35ft Simpson Manx 'Stella' and 43ft Fountain Pajot Belize 'Aquabar' – and whilst they thoroughly enjoyed their boats the couple decided it was time to "ditch the sails". 
Tanys, one of only six people in the southern hemisphere to own a gas air balloon licence, is now thoroughly enjoying her dream of having what she calls a 'chugger boat', and can draw similarities between both sea and air hobbies. 
"Parking this boat is actually a lot like landing a gas air balloon. Rotating it around and lining up the berth is much the same as lining up your landing position," she explains. 
As a recent competitor in one of the oldest and most prestigious aviation competitions in the world, the Gorden Bennet Cup, Tanys says the hobby has set her in good stead for driving boats. 
"You're also reading the weather patterns and thinking about where your weight is which are also good considerations even when it comes to leisurely boating," she continues. 
The newly named 'Alley Cat II' is proving to be more than the 'chugger boat' she had envisaged, with economical engines which are capable of doing high speeds if needed and plentiful interior space with all-round windows and shallow draft. 
As John notes though, the enormous fuel range was the biggest drawcard to getting him across the ditch when he initially saw it on the market.  
"What sold me on this boat was that it could carry 4000 litres of diesel. I wanted the range, because we do eventually want to do bigger trips and go further afield," he says. 
While planning their trip back to Australia for this winter, John and Tanys say Opua has been a great place to be based. 
"Since we first arrived everyone we've met has been very accommodating. It's actually one of the friendliest places I've ever been," says Tanys. 
From dealing with Robbs at 36 Degrees Brokers to the local companies OC Tenders and NSR Rigging as well as the boat's previous owner who had it custom built, John says there's always been someone to help with their questions. 
"Robbs was great with communication throughout the purchasing process, and nothing was ever a drama. He was relaxed and friendly even in the initial phone contact, and that's actually been typical of all our experiences dealing with businesses here in the Bay of Islands," Tannis says. 
With a boat entirely capable of taking them further offshore than they've ever been, the world truly is their oyster – and one they can now enjoy even when there's no wind and the sea is calm. 
"I love being on the ocean, but it's so much nicer when it's flat," Tanys laughs. 
The couple plan on departing Opua for Australia this Winter, with plans to visit Vanuatu in their immediate sights as well as eventually heading up the East Coast of Tasmania and into Cairns. 
All between bike riding and ballooning ventures of course!