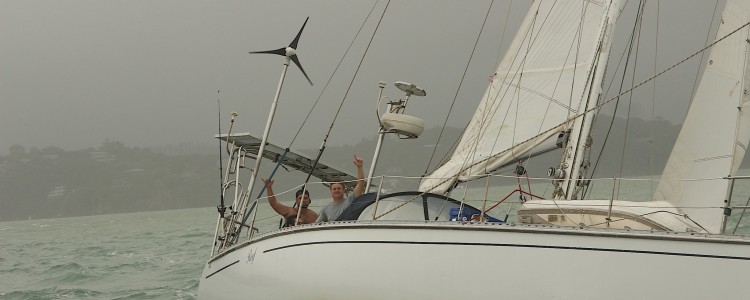 Windy forecast blows Whangaroa Race in a new direction
1 May 2023 | 36 Degrees News
A wild, wet and windy upwind forecast was looking questionable for a number of entrants in the 2023 Whangaroa Race & Cruising Rally.
Following the trend of the 2023 Round North Island race, the BOIYC race committee made a call to change course, and send the fleet in the opposite direction to the usual northbound course.
With the forecast looking more favourable in this direction, the fleet was sent south instead, 30nm down the coast to Whangaruru Harbour.
"The ethos of this race for the Bay of Islands Yacht Club is that it is a fun race to encourage our young sailors to try keel boating, to get boats on the water that are new to racing, and encourage cruising boats to join in. We also welcome the local race boats that make this event so iconic," said Thomas Fewtrell, event organizer and RO.  
This bold decision bolstered the entry list and encouraged some smaller yachts to participate. There was a brief upwind beat out to Tapeka Point, before the righthand tun around to Cape Brett became a reach, followed by a downwind to Whangaruru, accompanied by surf from a following sea.
The wild ride down the coast provided plenty of carnage for all, with many crews getting their fair share of broaches, round-ups and a few green faces spilling breakfast over the side.  
The yachts rafted up in the sheltered waters of Whangaruru Harbour, and later gathered on the beach as line honours prizes were awarded around the bonfire.
A lovely (and calm!) downwind sail back to the bay on Sunday were the perfect delivery conditions. 
Plenty of prizes were awarded on Friday night, with trophies for PHRF, Cruising Division, Line Honours, Best Raced & Biggest Fish Caught, and the infamous Grotty Oar.
Thanks to Bay of Islands Yacht Club and all those who joined us for the race, we hope to see you all again next year!