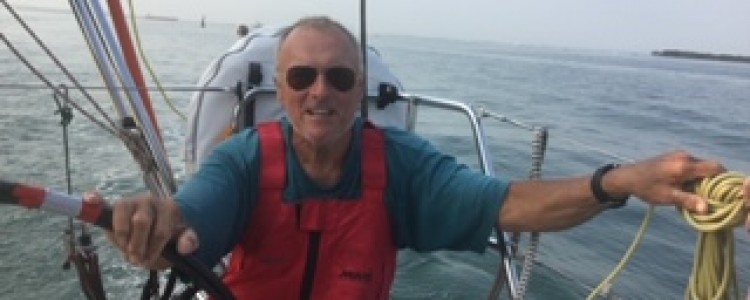 Trading Scalpels for the Sea
30 June 2020 | 36 Degrees News
From the operating room to the ocean, Marc Royer says his time as a surgeon was hugely beneficial when learning to take on ocean passages alone. Step by step, one thing at a time, and staying calm is paramount whether you're performing a delicate surgery or navigating reefs and islands. 
The former paediatric surgeon from Belgium has just spent four years living aboard his RM1270 yacht while travelling from Europe to New Zealand, following the abrupt ending of his career in 2015 due to his health. 
"Because of my Parkinsons, my neurologist informed me I must stop work. This was a really sad moment. Up until that point my work was my life. I couldn't do anything else, I couldn't be useful anymore", he explains. 
Since learning to sail at 18 years old Marc had always wanted to navigate the world, but his work took priority. It would be hard to beat the satisfaction and purpose Marc found in helping families – some of the surgeries performed on babies as little as 900 grams. But he felt a new project would give him a different purpose. 
The design and build of Heremoana was a process which Royer was very much a part of. He looked at various other options before deciding on an RM, and the final decision was made with the help of his ICC tutor who was mentoring him in further qualifications at the time. 
"I was sold on the concept of something fast, comfortable, and light while also being a very strong build. The construction is solid, which is something that gives me peace of mind in the middle of the ocean," he explains. 
 One element that gave Royer reassurance in his twin-keel design was the structure in galvanised steel, which makes a solid fixing point for both keels while also counteracting the downward pressure of the mast. He says the exclusive way which RM's are built offers a solid hull with epoxy and marine ply over this steel structure and would have a high tolerance should anything unexpected come in to contact with the hull. Further comfort is achieved with what he calls the "crash box", effectively a watertight bulkhead which ensures the hull is watertight even if the bow takes any impact.  
'Heremoana', meaning 'Loved Ocean' in Tahitian was launched in June 2016 in the Biscae Gulf. After a 5-month period of test sailing and ensuring everything was in order, Royer sailed to the Canary Islands with a couple of extra crew for the journey.
"I found my time as surgeon to be very useful as I became more confident on the boat. All my manoeuvres were organised like an operation. Step by step, one at a time. Even though I had crew for many of the passages I wanted to make sure I was entirely capable of sailing on my own," he explains. 
His next step was the Atlantic Crossing, following which he sailed from Martinique to Grenada, then onto the ABC Islands, before heading off to the coast of Columbia. Rain, strong winds, and big seas tested the boats capabilities on the way to Santa Maria, and with each step Marc found more and more confidence in his boat, as well as the incredible freedom of being at sea on his own. 
He took the time in Panama to prepare Heremoana for the canal crossing and also the journey into the Pacific. On his next sail to the Marquesas he learned of the arrival of his first grandson on the island of Moorea in French Polynesia, which naturally spurred him on to get there and spend some time with family. 
Tonga was the next step in his journey before heading straight to New Zealand. Ironically the second biggest storm he had weathered happened as he was approaching the Bay of Islands. With eight people waiting for him on the dock when he cleared customs, he says he had never been so happy to sink into his bed and rest. 
"I slept for two days!" he says. 
Now, with his boat on the market and an imminent closure to this chapter, Marc is hugely grateful for the experiences gained along the way.  
He's had plenty of time to think about it, especially with five weeks restricted to his boat as the country went into lockdown. And although the next step isn't clear as of yet, Marc says his feelings are embodied by a tattoo completed on his arm during his time in the Marquesas'. 
"It symbolises my re-birth as a sailor, and tells the story of my Pacific Ocean crossing and how I was protected."
For more information on the RM and to view it online please click here.