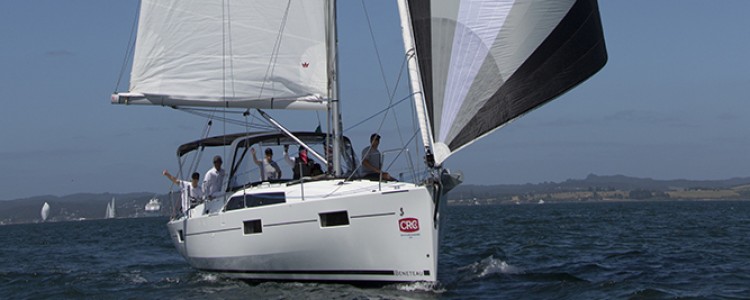 Top prize for Beneteau Oceanis 41.1 at Bay of Islands Sailing Week
1 February 2017 | 36 Degrees News
A fantastic three days of racing during Bay Of Islands Race Week saw the 36 Degrees Brokers team and guests finish on a winning high, with the Beneteau Oceanis 41.1 taking out their division atop the podium.
Proving that competitiveness and comfort do truly go hand in hand, the crew came away with a results run of 1st, 6th, and 3rd over the three races sailed from 25-27 January, taking out first place overall in the Island Racing C Division.
Adjusting modes was key to performing well in the races, with a range of wind conditions making tactical decisions and boat set up adjustments all the more important in the 18-strong fleet.
"The 41.1 showed her capabilities in being able to change gears and remain competitive in the fleet. We generally had a wind range of between five and fifteen knots – in which we found the electric pit winch very useful to easily make adjustments to the sail set up which helped keep her at maximum speed," noted tactician and 36 Degrees manager Raynor Haagh.  
The other benefit to the set up on the Oceanis 41.1 came with the code zero sail which the owner had bought as an addition to the yacht.
While it's simple set up and efficient sail shape generates higher speeds while cruising, the code zero also proved effective in reaching maximum speeds on the race track last week, especially on the reaching legs.
All in all, the regatta was a great one to be a part of, with the increasingly popular event attracting close to 100 boats across ten fleets.
The team couldn't have asked for a better result, while at the same time showcasing the Oceanis 41.1 at it's best as a highly adaptable cruiser/racer.   
To read more about Bay of Islands Race Week and check out the overall results visit the regatta website here.

Feature image: Will Calver/www.oceanphotography.co.nz