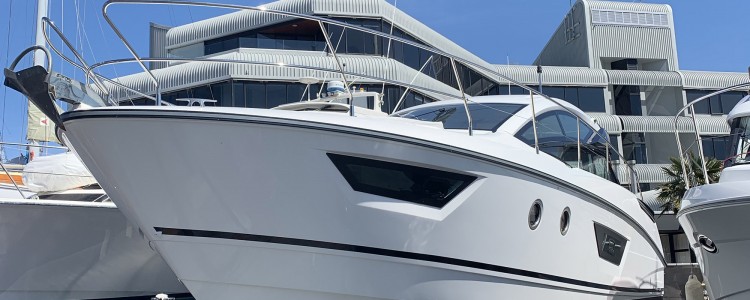 The Yacht Collective launches new Syndicate Vessel
6 December 2019 | 36 Degrees News
The Yacht Collective is proud to announce the arrival of it's second syndicate vessel. An all new Gran Turismo 40 has officially landed and splashed, just in time for another spectacular Kiwi Summer. 
For just $149,500 (per 1/6 share), the new owners can enjoy all the perks of boat ownership without the hassle of dealing with maintenance and service. 
The Gran Turismo 40 is functional, versatile, and stylish with easy handling which suits all experience levels.
It's well suited to the Kiwi market, featuring a 2-cabin layout with luxurious and spacious interior. Including all the creature comforts for a relaxing time away, the boat is also loaded with features such as an electronic swim platform, opening hard top, latest AirStep technology and twin 370HP engines. The GT40 is simply a perfect all-rounder. 
This type of ownership is proving to be popular, with six shares sold in The Yacht Collective's first Gran Turismo 40 last Summer. increasing interest was also noted at this years' successful Auckland On Water Boat Show. 
The Yacht Collective syndicate program presents an excellent opportunity to own a dream boat at a fraction of the cost and is a popular option for those seeking hassle free boating.
For more information on the Gran Turismo 40 please click here. 
Or to find out more about The Yacht Collective click here.