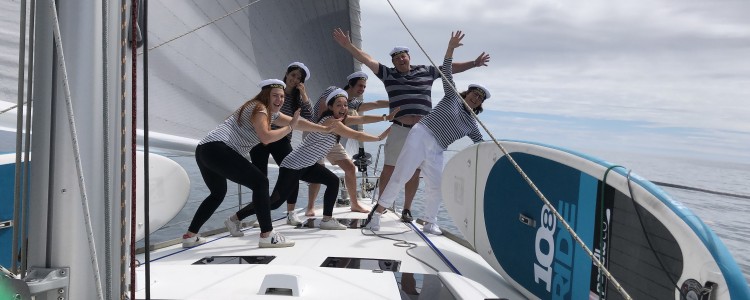 Revved engines for PIC Coastal Classic's 2020 cruisers
29 October 2020 | 36 Degrees News
No wind? No worries. 
The fickle forecast for this years' PIC Coastal Classic was of no concern for the 36° Cruising Rally boats, most of which crossed the start line under full steam.  
With coffee in hand and menu plans at the ready, our record fleet of cruisers lead the way for most of the 119 nautical mile trip up the coast, with the lack of breeze creating a slow slog for the race fleets. 
Some chose to stop off at Kawau on the way, and others chose to park up in the Bay of Islands for lunch before cruising into Russell the next day. 
The rally fleet was amongst the 85% of boats not awarded an official finish time, given they surpassed the 4 hours of allocated engine hours on the journey north.  
Winning isn't really the main focus of this division though, so there were still plenty of laughs and smiles to be had at the final destination, as well as prizes awarded and friends made. 
36° Brokers would like to thank all the participants in this years' rally, and give a special mention to the crew aboard 'Fresh Venture' for their nautical efforts in the best dressed section, along with 'Tiki' and 'StoryTeller' for a great haul of photos submitted during the coastal journey. 
Hones Beer Garden in Russell once again provided a great relaxed setting for our cruisers to meet and greet before the official prizegiving. 
A huge thanks to our industry friends and prize suppliers Lusty and Blundell and Boating NZ Magazine for adding huge value to the rally this year. 
For more rally photos check out our Facebook page album here. 
See official website for wrap up details on the event itself.