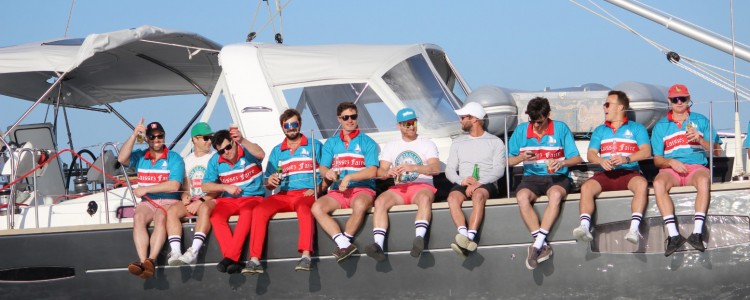 Rally Up! It's time to Cruise to the BOI
15 October 2019 |
It's nearly here! The 2019 PIC Insurance Coastal Classic is under two weeks away and we're so excited to have EIGHTEEN boats entered in this years Cruising Rally Division. It's also great to see many returning boats from last years cruise, as well as some newcomers to round out the fleet. Want to see who else is in the division? Click HERE.  
For those that like having information all in one place – here's what 36 Degrees Brokers are offering our fine cruisers this year. 
The chance to start as one fleet: 
While cruisers are welcome to start anytime between 0815 and 0915hrs on Friday 25 October, 36 Degrees will also be running a start line, should cruisers want to set off as part of a bunch. 
START DETAILS:  There will be a 36 Degrees flagged start boat stationed off Devonport wharf from 0800hrs. There will be a 5-minute hooter at 0810hrs, and start gun at 0815hrs. 
If you miss this – no worries. Just cruise out of the harbour anytime before 0915hrs. Anytime after that, organisers request you stay clear of the starting area while the race boats get underway. If the main race start vessel is not on station when you start your voyage, organisers ask that you make a VHF radio call to Auckland Coastguard advising them of your start in the COASTAL RALLY.  
FLAGS
We'll be including a division Flag in the Rally skippers' packs this year to be displayed visibly on your boat. 
PRIZES! 
Spot prizes from a range of our fantastic supporters to be handed out at the official prizegiving on Saturday night. 
Competition prizes – to be awarded at the cruisers Meet&Greet prior to prizegiving. 

BEST PHOTO: Photos can be sent or emailed during your trip North to hana@36degrees.nz, or via text on 0212842662, or via facebook messenger to 36 Degrees Brokers. 
Instagram – use the hashtag #coastalcruisers2019 on your upload. 
BEST DRESSED CREW: Come up with a theme and get your crew on board, we'd love to see some colourful, fun crews on the start line, and will reward you for your efforts in Russell!
MEET & GREET IN RUSSELL
A chance for you to meet your fellow cruisers prior to prizegiving on Saturday 26 October, and where we'll award the photo contest winner, and best dressed crew. 
From 4-6pm at Hones Garden – the home of authentic wood fired pizzas, local craft beer on tap and boutique NZ Wines. Bar will be open – we'd love for you to join us before heading along to prizegiving (which starts at 7pm just a few doors down). 
 Other things to note about the Cruisers Division:
PHRF Handicap not required
4 hours motoring allowed
Spinnakers optional
For  FULL run down of the Rally details please see the official Notice of Rally. 
For more details on the event itself, please visit www.coastalclassic.co.nz.