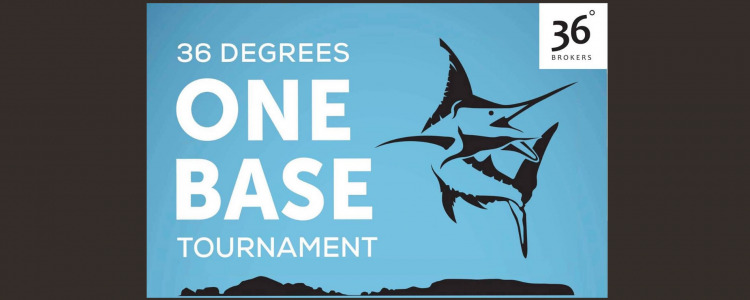 Presenting… the 36° Brokers Tutukaka One Base Tournament!
5 March 2020 | 36 Degrees News
36° Brokers are excited to be the new title sponsors of New Zealand's longest-running one base fishing tournament hosted by the Whangarei Deep Sea Anglers Club (WDSAC).
The "36 Degrees Tutukaka One Base tournament in conjunction with Air Vanuatu & Furuno" is set to deliver four days of fun-filled fishing competition from 19-21 March along one of Northlands' most beautiful coastlines. 
"We're stoked to be backing this prestigious fishing event. It's all part of our drive to support New Zealands' wider boating community, in which fishing plays an integral part," says 36° Brokers director and owner Conrad Gair. 
He says their partnership with the WDSAC "just makes sense" given its location and also the popularity of the tournaments they deliver.
"We've got offices based in Auckland and Opua, and regularly have brokers across in Tutuaka so we know the area well. It's easy for us to attend, and also a great way to network and socialise with competitors during the event," he continues.
WDSAC Vice President Blair Dinkwater says the sponsorship means a lot to the club.
"We couldn't be happier with the opportunity to work with an industry leading company, and would like to thank 36° Brokers for their support. We're really looking forward to seeing what the future brings with our partnership," he continues.
Blair says teams enjoy attending this tournament because of the camaraderie between anglers, as well as the great venue and friendly nature of the club.
"The one-base tournament is always highly anticipated on the club calendar, and attracts teams from all over New Zealand as well as Australia. All the teams get together each night for a few beers and to tell a few tales – it creates a great contest," he explains.
The event is scheduled to start on 19 March, with great prizes up for grabs including top electronics from Furuno, World class fishing gear from Shimano, and a trip to Vanuatu. 
For more information on this event please visit the WDSAC website and Facebook page.
The Whangarei Deep Sea Anglers Club is an aquatic social club based at Tutukaka, Northland. Our members come from fishing, diving, and yachting circles as well as local residents. At present there are over 1,300 members. Membership grants access to the club amenities, with the clubhouse only minutes from the fishing and blue water that is envied by anglers and divers worldwide.