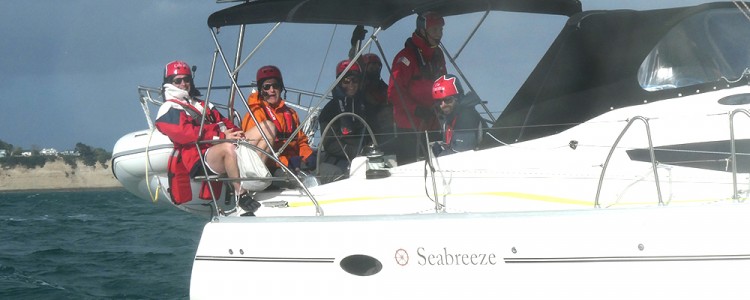 PIC Coastal Classic: Cruising Rally is "where it's at!"
30 October 2019 | 36 Degrees News
You couldn't have asked for a much better forecast for this years' PIC Coastal Classic. 
And while it may have been perfect for the record-breaking boats and keen racers, it was also hugely appreciated by the 18-strong fleet in the 36 Degrees Brokers Cruising Rally Division, many of whom completed the entire stretch under sail. 
For the boats that did choose to use their engine for some of the last 20 nautical miles into Russell, it gave crews much satisfaction to bypass those sailing upwind, making a beeline for the finish. 
Comments like "cold but very enjoyable", "a beautiful sail", "the cruising rally is where it's at", and "It's an amazing feeling to be amongst all the fastest boats", were relayed at the 36 Degrees meet & greet in Russell on Saturday. 
Crew aboard Elan Impression 'Seabreeze' attributed their fast trip to their safety helmets, topping out at 12.5 knots and setting new personal bests for boat speed, while also scooping up the prize for best dressed crew. 
Second-time division entrants 'Dream Weaver' enjoyed a roast meal on the way up the coast, and crew aboard 'Moonfish' were snapped hard at work with a drink in hand while cycling to take out the photo contest. 
36 Degrees Brokers would like to heartily thank the prize suppliers and industry supporters who have helped bring this division to life, and are looking forward to future years with more cruisers joining in the fun. 
"We're so excited to see the continued growth in this fleet. The more variation the better too, the idea has always been to open it up to all boats, whether it's a production boat, cruising classic, multihull, or a monohull. Bring on the Coastal Classic 2020!" comments 36 Degrees owner Conrad Gair.  
A big thank you to North Sails, Boating NZ Magazine, Flying Kiwi Parasail, Lusty & Blundell, and Makana Confections for supporting us. 
To view our photos from the start please see our album on Facebook. 
See below for a list of of our upcoming events which we'd love to see you at. 
 Bay of Islands Sailing Week – 21-24 January 2020
Squadron Weekend, Kawau Island – 15 February 2020
Beneteau Owners Club Rally – 7 March 2020
36 Degrees Brokers Picnic – 22 March 2020
For more information on these events, or to request any photos from the Coastal Classic, please drop a line to info@36degrees.nz