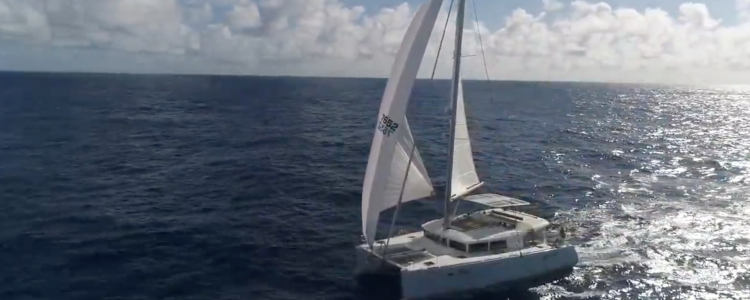 Perks of cruising in the PIC Coastal Classic
21 October 2019 | 36 Degrees News
 The last stretch of the PIC Coastal Classic is often the most painful, even for the raciest of yachts. 
Lagoon 450 'Magique's owner Dave Saggs knows this feeling all too well, having competed in previous editions of the the iconic Kiwi yachting event.
"We've often made good time to Cape Brett, but it has been agony beating for the last 20 nautical miles to Russell," he explains. 
This year he's opted for the Cruising Rally division, and is pleased to have five hours of engine use up his sleeve, so they can enjoy the entire journey. 
As one of only two multihulls entered in the 19-strong fleet for 2019, Dave says it's still an excellent opportunity to be part of such a race. 
"It'll be nice getting into Russell a bit earlier, as well as watch some of the really hot yachts pass us on the way up the coast. I find the most enjoyable part is to sail with such a large fleet," he notes.
Based in Auckland, 'Magique' has been on many exciting adventures during the last seven years which Dave has owned her for, and ticked off 8000 ocean miles including a circumnavigation of New Zealand. 
"We sailed in 64 knots at Castle Point, and hit 23 knots boat speed in the Karori Rip. We've sailed to Tonga twice via the Minerva Reef, and have been privileged to snorkel at the Kermadec Islands as well as a tour on Raoul Island from DOC Staff." 
 He's looking forward to this Friday with favourable winds forecast for the journey North. 
This year's rally boats range from Young 88's to a cnb66, and everything in between. 
"It's nice to see such a mix of boats entered in this division, and we're really pleased with the way this fleet is growing. It's great to have a couple of catamarans in there too. We're hoping to attract more multihulls to it in the future," comments 36 Degrees Brokers owner Conrad Gair. 
The event is set to take place this Friday, and cruisers are invited to leave the harbour as early as 8.15am. For more rally details including starting information please click here. 
Make sure you've liked our 36 Degrees Brokers facebook page, as well as the PIC Coastal Classic Facebook page for race updates and photos from the water. 
For more information on the Cruising Rally please click here.