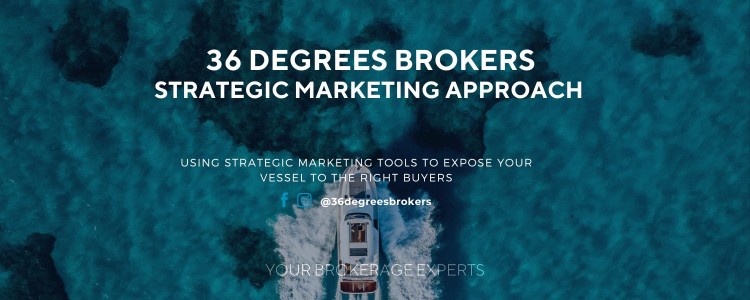 Our Strategic Marketing Approach to Selling Your Vessel
26 July 2023 | 36 Degrees News
Selling a boat can be a rewarding experience, but it requires effective marketing strategies to attract the right buyers. In today's competitive market, leveraging data-driven approaches is essential to maximize exposure and reach potential customers. 
1. The Power of Our Database
At the core of our marketing strategy lies a powerful and extensive database of potential boat buyers. This database enables us to target specific demographics, preferences, and locations, ensuring that your boat is showcased to the most relevant audience.
 2. Data Analysis
To further enhance our marketing strategy, we gather information on communications between interested buyers and the broker and pull data from all our listing websites as well as Google Analytics, a service used to gather statics on our marketing platform.
By tracking these interactions, we gain valuable insights into user preference. This information helps us to determine if your boat listing reaches potential buyers at the right time and place.
3. Vessel Comparisons
When buyers are looking for a boat, they often want to compare different models before making a decision. We facilitate this process by providing detailed vessel comparisons. This feature allows potential buyers to assess the unique features and benefits of your boat, increasing the chances of capturing their interest.
 4. Listing Platforms
When it comes to the exposure, we understand the importance of getting your vessel out there to the right buyer. We have a diverse selection of listing platforms that range from national to international websites. This allows your vessel to gain widespread visibility, reaching a global audience and attracting interested buyers. 
5. Visual Marketing
We use high-quality photographs to showcase the boat's aesthetics, design, and overall condition, enticing buyers to learn more about the vessel and consider it as their next adventure on the water.
Print media remains a valuable marketing channel. As part of our marketing strategy, we include boat listings in prominent boating magazines as well as our monthly flyers. These listings expose your boat to a dedicated readership.
Stunning and captivating images of your boat are crucial to attracting potential buyers and incorporating them on our office windows, multiple listing websites and social media, which we know has become an incredible marketing tool across the globe. Visual marketing is not just a tool but a key to a successful marketing strategy.
6. Personalised Vendor Reports
Finally, our Brokers will provide customised Vendor Reports to give sellers a clear picture of the current state of the boat market and how they potentially fair within that market. These reports are an honest representation of the efforts made by our marketing team and brokers combined. This report includes key updates and statistics relative to your vessel, such as viewing interests across our listing websites and social media, phone calls and emails between the broker and the interested buyer, and the number of viewings conducted by the broker. 
Armed with this valuable information, sellers can set competitive prices and make informed decisions throughout the selling process.
Our commitment to utilising the latest marketing techniques and leveraging valuable data enables us to reach potential buyers. So, whether you're looking to sell your boat quickly or want to get the best possible price, our effective marketing strategies are here to help you achieve your selling goals.
Get in touch with our team today to take the first step towards a successful boat-selling journey!