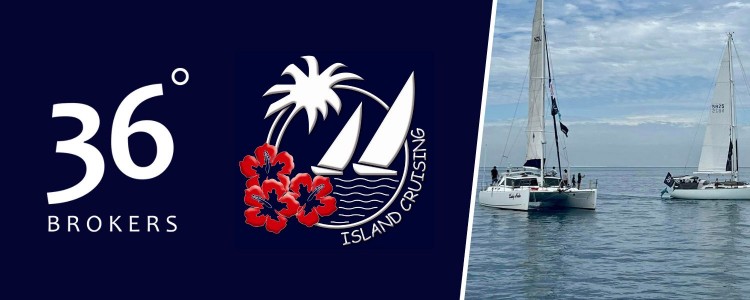 Our New Bluewater Adventure with Island Cruising NZ!
3 May 2023 | 36 Degrees News
36° Brokers are pleased to announce our new sponsorship with Island Cruising NZ! Our Broker Robbs is thrilled to be sponsoring this years PAicfic Rallywill be setting sail in the Pacific Rally to Tonga and Fiji, finishing up at the Musket Cove Race Week!
Island Cruising is an amazing New Zealand based organisation run by Viki Moore. They offer a range of rallies, workshops, cruiser support, and other services from New Zealand across the pacific.
Island Cruising provide outstanding support services to those on the rally, which includes weather routing, passage planning, on passage support, and advice for clearing customs. Perhaps most importantly, knowledge sharing from those who have a wealth of experience to those making their first passage to the islands.
Cruising preparation workshops include long term cruising preparation, passage making & planning, maintenance navigation, safety regulations for Cat 1 & 2 cruising and much more!
To top this off, members enjoy special rates on a wide range of marine products and services as well as access to Crewseeker, for skippers & crew looking to join boats on a passage.
Here at 36° Brokers, we love welcoming the cruisers back into Opua in October/ November each year, and now we are excited to share the journey and connect with the Bluewater cruising circuit offshore!
Broker Robbs of 36° Brokers will be joining the rally for a second time this year. Last year he departed Opua to Fiji with his family, spending four months exploring the islands.
"We got huge value from all the cruising tips, tricks and logistics. The WhatsApp group was awesome. It was great to meet so many adventurous spirits sailing overseas."
This year they plan to visit Tonga for a month before heading across to Fiji.
36° Brokers are pleased to offer a workshop and webinar to members as a part of our sponsorship. 
"I'm super keen give something back to the community of Bluewater cruisers and to be supporting new people getting into boating," says Robbs, who will be conducting the webinar.
Robbs gave a seminar last season to those who arrived in NZ on heavy weather offshore sail trim and safety techniques on board. He has been a bowman and a trimmer on offshore races and loves to share tips and tricks to keep boats stable and on course.
Fair winds to all those departing on their offshore adventures soon, we hope to see you up in Tonga, Fiji, and at Musket Cove Race Week!