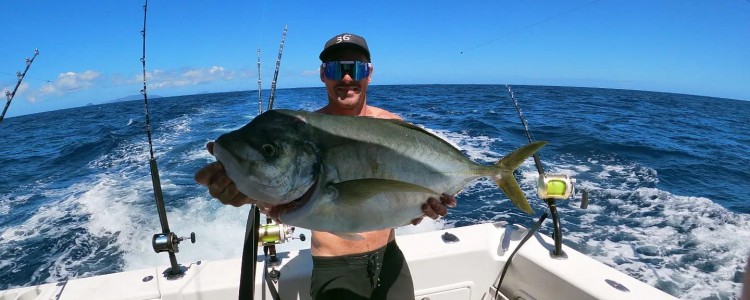 Making the Most of a Weather Window at the Three Kings
28 February 2023 | 36 Degrees News
After a weather- disrupted game fishing season so far, the post- cyclone Gabrielle High was a pleasant surprise for many, including those participating in the NZSFC Nationals.
With short notice, many sports fishers made the run up to the remote Three Kings Islands for the amazing weather window, amongst them 36 Degrees Broker Chris.
"It was pretty awesome chatting to the other anglers in the game fishing community up there, and all the support and help out there in such a remote location. A Kings trip should definitely be on anyone's bucket list."
Getting their first strike trawling their way up the coastline, shortly after hooking up a small Stripey off the King Bank, the crew aboard the Riv 40 "Quattro" knew they were in for an action-packed few days.
The boys tagged and released five Marlin over the three days, with a fair few dropped.
Chris was stoked to have the chance to jump into the water for a spearfish at the Kings and Tom Bowling Bay. "The sealife up there is amazing. Your surrounded by monster Trevally and Kingfish in deep water."
The crew were happy to have a feed of crayfish, kingfish and trevally for dinner.  
Despite the weather and murky waters, there have been some outstanding results from local boats in the Bay this year. 36 Degrees is a proud sponsor of the Bay of Islands Swordfish Club and the Whangarei Deep Sea Anglers Club.
Here's hoping the good weather sticks around and we'll see you out on the water at the Tutukaka One Base Tournament next week!
Check out the trip video here: https://youtu.be/VBWTE1OT3HA