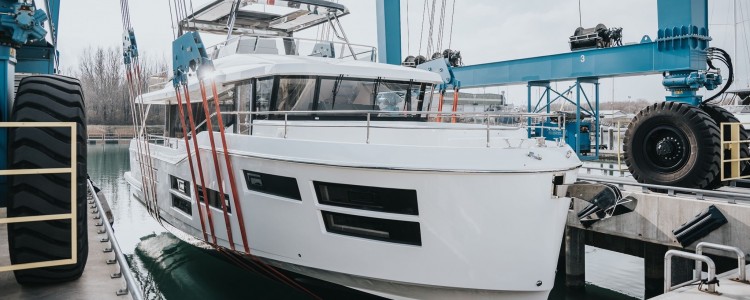 The All- New Grand Trawler 62
21 April 2021 | Beneteau
Make your next voyage unforgettable with the new Beneteau Grand Trawler 62.
Beneteau have built over 1300 Swift Trawlers, and have become firmly established at the top of the trawler market.
 This is the first Swift Trawler with a full displacement hull. With a cruising range of 900 nautical miles at 9 kts, she is ideal for slow, lengthy cruises. Hours of extensive engineering and testing have gone into creating a hull with the best economy, performance, and seakeeping. Kitted with twin MAN i6-730 engines, they have the best power-to-weight ratio and the most economic fuel consumption in their class, enabling owners to cruise sustainably.
"Our goal with the Grand Trawler was to create a super-efficient hull, with an optimal cruising range between 8 and 12 knots and a top speed of just over 20 knots. We wanted to meet our customers' new expectations," - Robert Chaffer, Product Manager at BENETEAU. 
A fine entry bow carves through waves with ease, while the skeg- keel holds the boat steadily on course. Spray deflectors on the bow minimize sea spray, while additional comfort on board can be increased with optional gyro-stabilizer and auto-glide trim tabs.  
This Grand Trawler 62 has the most expansive flybridge on the market for a boat this size. Two well- appointed helm stations give a commanding view of the surrounds, with a second pilot seat.
Wide side decks lead to sun pads on the bow and a 'terrace' at the stern. Weather you favour entertaining, introspection, or both, the Grand Trawler has it all with multiple living spaces, lounges, and luxury.
Massively spacious inside, the Grand Trawler give the feeling of a much larger yacht. The award- winning team at Nauta design studio have created an elegant design that flows seamlessly from bow to stern.  With options of satin- wax finished wood, leather and textiles, this Trawler is stylish inside and out.
Generous headroom in all the cabins gives the feel of a hotel suite, with accommodation for 6-8 guests, plus crew. The master cabin stretches the full beam of the boat, featuring an island bed.
The saloon layout is perfect for entertaining, with separate lounge, wine storage and dining. The galley has the option of being completely enclosed.
This Trawler offers the ultimate get away, favouring introspection in addition to relaxation or leisure activities. The Grand Trawler gifts its owners the luxury of time, with the ability to spend days at sea in absolute comfort.
To find out more about the design, see an interview with the designer himself: https://youtu.be/LLpiVB8H5ho
Find out more about New Zealand delivery here.