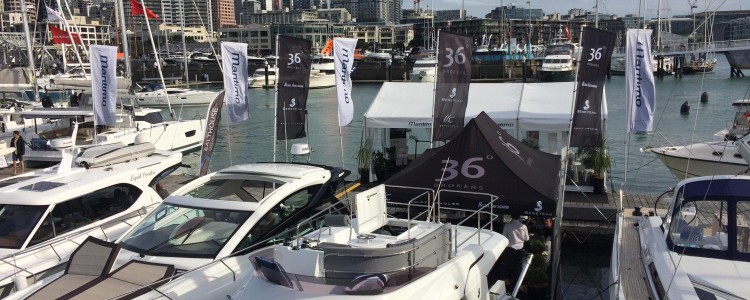 New Beneteau models shine at 2018 Auckland-On-Water-Boat-Show
3 October 2018 | 36 Degrees News
The NEW Generation Beneteau Oceanis 51.1 was rigged and ready to impress at the 2018 Auckland-On-Water-Boat-Show with a huge amount of interest garnered during the four-day event. 
As one of only two models released in the seventh generation of Oceanis, show-goers were naturally interested to see how the range has evolved in both design and innovation features. 
"As the first 51.1 to reach New Zealand, it was great to be able to show this model which gives boaties a real taste for where the range is headed. The hull shape, deck layout and generous interior spaces are definitely key features, but people were also quick to pick up on other clever aspects including BBQ out back, wide side decks and smart deck layout with all lines running to the helm station," 36 Degrees Brokers owner Conrad Gair explains. 
There were also plenty of people who checked out the power models on display, with the Swift Trawler 30 and Gran Turismo 40 with their own key features to appreciate. 
A lot of interest was also had in the buyers syndicate arrangement* currently offered on the Gran Turismo 40. With expressions of interest currently being taken for other models, this is an increasingly popular way to own and enjoy a boat in a hassle-free method that divides the cost between shareholders. 
Overall the show proved to be another great success with hundreds of people stopping by to say hello and check out the vessels. 
Above photo credit: BREEZE Magazine.
For more information on the ranges click to view either Power or Sail, and please don't hesitate to get in touch with one of our friendly team members if you require any further information. 
*Shares in NZ Boat Share GT40-1 Ltd are currently been offered by 36 Degrees Brokers Ltd (36 Degrees). The product disclosure statement including the application form for the offer can be obtained by emailing info@36degrees.nz, calling 09 903 1001 or searching the Disclose Register using Offer Number (OFR12423). An annual use charge and rules relating to the allocation of boat use will apply.