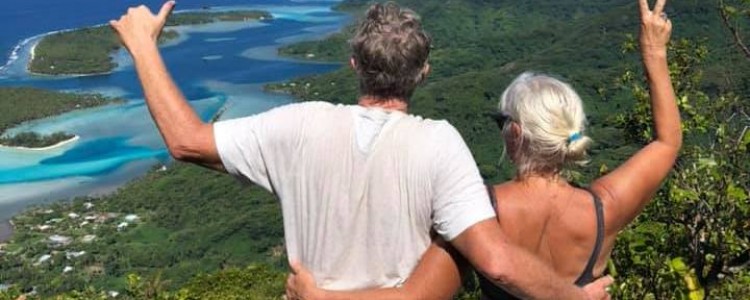 Owners Story: Multihull magic for 'The Larrikin's'
2 September 2020 | 36 Degrees News
Multihull living was a no-brainer for long-term Kiwi cruisers Bill and Barb Young who sung, danced, and tuned their way around the globe over three years aboard Helia 44 'The Larrikin'. 
The musical duo and self-professed 'hippies' had always dreamt of owning a catamaran, with the shift to two hulls following years of sailing in a range of keelboats, which at times Bill likened to 'being a rabbit running up and down warrens'. 
"In our early 20s we spent a year cruising the Barrier reef in a 31ft piver, which we bought for eight grand. At the time a friend of ours owned a Crowther, which opened my eyes to the potential of a multihull," he explains. 
Their time cruising the barrier reef was a way for the free-spirited souls to escape from society, the same mentality they've carried throughout the following years of sailing and living aboard boats.  
The pair began their most recent journey on 'The Larrikin' in the US, Washington, where they took ownership of the boat, before heading down the Caribbean with the dream to eventually return to New Zealand. 
Despite having their "wings clipped" on this adventure due to Covid-19, resulting in the sale of their boat, Bill is very grateful for the three years of pure joy they've had on two hulls. 
"Having a multihull as a liveaboard was amazing, particularly in the latitudes of the trade winds. Even in three-meter swells you can relax on the back deck with a cup of tea. Layout wise, we had more space than most apartments at 40ft," he says. 
The pair spent their first season in the Carribbean getting to know the boat and preparing for the bigger crossings. The first was a three-day sail from Grenada to Venezuela, into what Bill described as "pirate territory". 
Getting to know the procedures for clearing customs in each country was part of the learning curve, as well as studying the different cruising grounds and island layouts. 
"Once you've done it two or three times, you're all over it. It just gets easier. I think for a lot of cruisers this can be a daunting part of trip planning, but you learn the ropes pretty quickly when you've got plenty of countries to clear in and out of," he says. 
Music was a big part of their journey, both playing instruments on board and with fellow cruisers, as well as mixing with the locals in different ports. 
"It's been a strong hobby through our lives, and onboard we carried a couple of guitars, some harmonicas and a small PA system. We met a guy with a drum kit in Shelter Bay in Panama and had two big Saturday nights playing music and dancing on tables. We also had a lot of fun in Columbia, and were able to have little parties on the beach where we went, including a wedding in Tahiti," he recalls.
During their Pacific crossing the pair celebrated their 60th birthdays, a special milestone for which Barb had "planted the seed" the year beforehand. 
The three-week trip from the Galapogas to the Marqueasas also confirmed to Bill that you're "never too old to do what you love". 
Affectionately dubbed their "non-financial challenge" – their adventure was rich in life experiences and precious times with family and friends who joined them along the way. Being out at sea, miles from land can sometimes be daunting for cruisers contemplating long passages, but Bill says this is often where the magical moments occur. 
"We saw some pretty incredible things too, like a city of lights which was 28 fishing ships half way across the Pacific, just as we were having a glass of wine with the sun going down. It really makes you think about what's happening to our ocean. It took us 24 hours to navigate through all of them," he recounts. 
Now, having passed on "The Larrikin" to new owners, and living at Waihi Beach, the pair are determined that their cruising chapter is not yet closed. 
"Our wings were clipped on this trip for sure. We already had the currency for Fiji, Tonga, and New Caledonia but Covid shut our trip down. But we've got to be grateful that we got three years in, and there will be another boat in the future." 
After all, you're never too old to follow your dreams. 
To look through the blog of Bill and Barbs trip head on over to the Facebook page "The Larrikin".