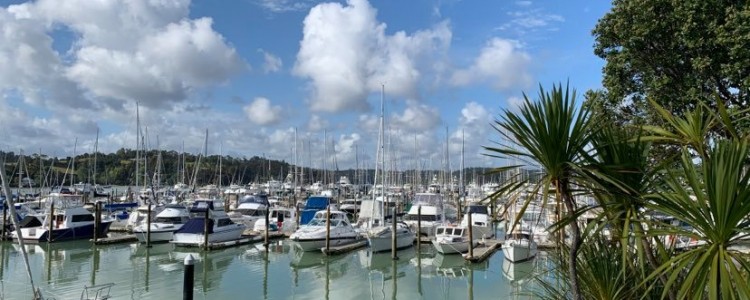 Maintenance tips for retaining your boats' value
27 May 2020 | 36 Degrees News
Casting off has never felt so good for New Zealand boaties who are now able to relish in what's left of the Summer boating as the nationwide Covid-19 lockdown lifts. 
But with this freedom comes the timely reminder that our boats deserve some extra care as we look towards the Winter months.
Weeks of sitting idle can often mean there's more to check, whether you've been in a marina berth, on a mooring, sitting at anchor, or on the hard.  Together with our services manager Blair McNaughton we've put together a list of things to look for, and items to check pre-Winter. 
Structural integrity: It's a good time to make sure there's now water where there shouldn't be, and that nothing has rubbed or chaffed through the hull. Keep the dehumidifier as a routine part of packing away your boat to minimise moisture and mould growing inside. Bring up the floorboards and check the far corners of your boat for any extra water so you can pinpoint whether it's a structural problem or leaking window seals, or something else. Keeping an eye on this is vital to ensuring there's no bigger problems down the line. 
Electronics: Charge up the batteries and make sure everything is still working before venturing out. Wiring can often suffer from boats sitting idle, and it's important to make sure no water damage has occurred, or chaffing of any kind. 
General cleaning: Keeping surfaces free of mould both inside and outside will retain the longevity of your boat. Regular wiping down of canvas covers, clears, and hatch openings is a great habit to get into. 
Safety items: Check your EPIRB, lifejackets, and other safety equipment remains easily accessible and in date. 
Job list: It's an ongoing part of keeping your boat in good shape, but make sure you note down what needs to be done, and number it off in order of priorities. Naturally any bigger jobs which affect safety and sea worthiness will be up in this list. 
Repairs/Service: If there's anything out of your realm to fix it's the time to book in contractors to take a look. Find out if you'll require haul out, and if so make sure you maximise your time out of the water to tick off any other jobs.
Call Blair! If you're after a second opinion on any course of maintenance or service please feel free to call Blair at 36 Degrees for advice.We have a wide network of marine contractors covering electrical, mechanical and structural areas. He'll be more than happy to offer advice or recommend people for jobs, and can be onsite for bigger jobs if requested. Call 021456465 or email blair@36degrees.nz.
Keeping your boat in good condition means you're not only ensuring safe boating for you and your friends or family, but also giving peace of mind to any potential owners if you look to sell down the track. 
Our team of brokers all agree that a well-maintained boat with a detailed log book and record of service has far greater appeal to potential buyers than one without.  
For any extra information on buying or selling your boat please don't hesitate to give one of our team members a call.  
If it's service, maintenance or repairs you're after please drop blair a line at blair@36degrees.nz. 
Stay safe and happy boating!