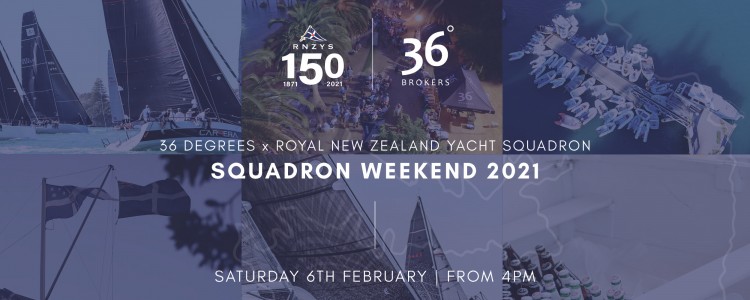 Join us for the 2021 Squadron Weekend!
8 January 2021 | Beneteau
Don't miss the biggest boating weekend of the summer with the upcoming 36° Brokers Commodore's Cup Squadron Weekend! Celebrating 150 years of the Royal New Zealand Yacht Squadron. Join us for a weekend of racing, celebration, and on shore festivities.
Friday 5 Feb – Sun 7 Feb 2021
Kick off the weekend on Friday afternoon with the 36° Brokers Commodores Cup Night Race to Kawau. Back it up Saturday morning with the Round Kawau Race and see which crew takes the title!
Saturday afternoon we hit the Lawn out at Lidgard House for the Squadron Weekend PARTY. Power, Sail and Multihull owners all welcome to join! The event includes LIVE music, food, family games and much more.
Dress to impress… This year's themes celebrates the 150th Birthday of the RNZYS. Take inspiration from the words and decades that make up the RNZYS…
ROYAL – Dress as any of the Royal Family
NEW ZEALAND – Represent NZ and Kiwiana
YACHT – A yachtie from any decade
SQUADRON – Representing the Squadron throughout history
Register and book your tickets via the RNZYS page.