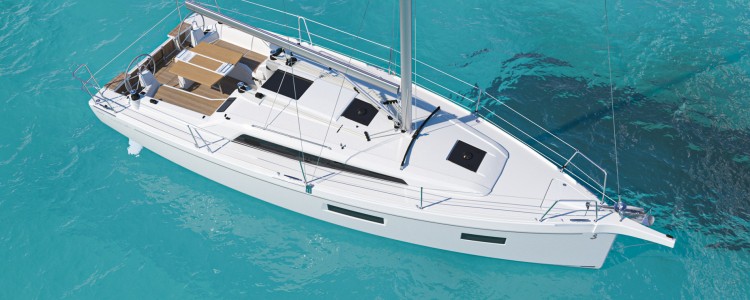 Introducing the latest-generation Oceanis 34.1
24 August 2021 | Beneteau
On the back of the ultra-successful Oceanis 35.1, the newly imagined 34.1 takes the design brief a step further offering greater space, greater performance, and the promise of easy cruising. Whether looking for a safe and reliable family boat, dreaming of going offshore, or simply enjoy the odd race around the cans with friends, the Oceanis 34.1 comes in a range of packages to suit a mix of needs. 
Designed for simplicity, the 7th generation Oceanis 34.1 handles beautifully and is a very reliable cruiser offered at a great price point. Sleeker, lighter, more spacious, and with more sail area than her predecessor, the 34.1 comes in a range of options and packages to suite a wide mix of needs.
Available in a First Line package for thrill seekers wanting maximum enjoyment at the helm. The newly designed cockpit removes the backstay and creates a clutter-free and spacious deck area. A square-top mainsail offers more sail area than ever, with simplistic navigational tools take make sure for an easy ride.
Available in a 2cabin, 1 head or 3 cabin 1 head layout, the interior is generous with ample windows and lighting. The L-shaped galley is practical underway with plenty of storage area for long distance cruising.
Learn more about this fantastic new Oceanis HERE.