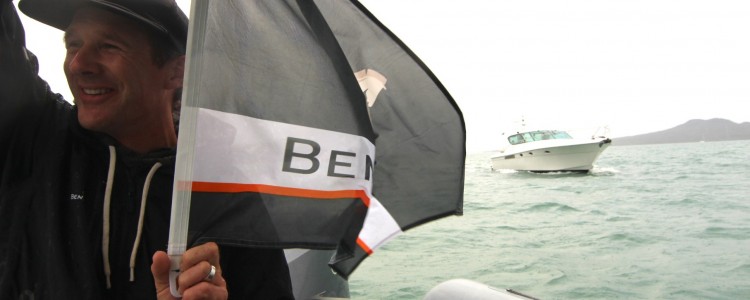 Smiling away the rain during 2019 Beneteau Owners Club Rally
9 April 2019 | 36 Degrees News
Pouring rain and gloomy skies on the morning of the 2019 Beneteau Owners Club Rally didn't deter 20 boats from venturing out into the Hauraki Gulf for the fun voyage to Man-O-War Bay on Waiheke Island. 
With bimini's out in full force and armed with fresh coffee, hot cross buns, and warm gear, the line-up of Beneteau's from Browns Island was spectacular on a day where boaties proved you don't need sunshine to have a good time on the water.
The teams at 36 Degrees Brokers and PIC Insurance were thrilled with the turn-out, and fortunately the rain and wind eased throughout the day to make for a fun afternoon of beach games, socialising, and wine-tasting at Man-O-War vineyard. 
Participants got into the spirit of the prize categories, with photos being sent in along the way of fish caught and action on board. 
A fantastic array of prizes was handed out for elapsed time winners, best photos, best dressed, best fish, and spot prizes following the wine tasting.
A massive thanks to our preferred suppliers for putting up such a great range of goodies. These included prizes from North Sails NZ, Boating NZ Magazine, World Power, Gloss Boats, Aquaplumb, Beacon, Pier 21, Lusty and Blundell, Family Boats, Fusion, and Compass Marine.
Man-O-War bay was flat calm by the end of the day, with some of the rally'ers choosing to stay the night and enjoy the fine Sunday weather following. 
Thank you to all those that joined us, along with Man-O-War Bay Vineyard for hosting our group and PIC Insurance Brokers for co-hosting and organising the day. 
For more photos from the day please view on the Beneteau Owners Club NZ Facebook page. 
The Beneteau Owners Club NZ was formed with the intention of bringing boat owners together in a fun and unique way, and it was great to see both power and sail boats take part in the rally to Waiheke. 
If you're interested in becoming a part of the club please register your interest to hana@36degrees.nz for future mail-outs and event notifications.