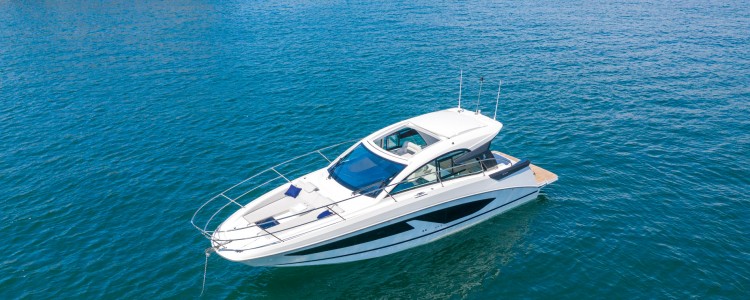 Welcoming the NEW Gran Turismo 36 to the market
13 August 2020 | Beneteau
Great for Kiwi boating, enjoying the outdoors and hassle-free cruising – the NEW Gran Turismo 36 really has it all.  
We have been eagerly anticipating the European launch of this new genereation model, and are excited to welcome the GT36 to the market.   
Following the launch of the Gran Turismo 32 last  September, this range continues to evolve and innovate, with the newest model of the bunch already turning heads. 
This new model offers either an inboard or outboard engine, as well as an innovative cockpit worthy of a forty footer, and a well-appointed interior and unique recessed foredeck sun pad. 
Connection between spaces is key aboard the Gran Turismo vessels, and is achieved through clever features which create effortless flow. This includes the aft backrest of the portside U-shaped seat which easily transforms into a headrest for the aft facing sunpad – another fantastic feature to make the most of seaside living. 
The aft wetbar is also another great feature, meaning you can BBQ and have easy access to drinks all while staying upstairs with friends and family. 
The US built counterpart of this model has already become a firm favourite in the American market, and we are very much looking forward to seeing the uptake of the European built model. 
For more information on this vessel please click here, or get in touch with us today to discuss your options today.