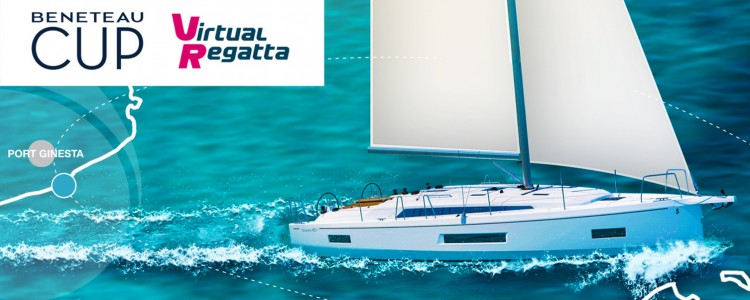 Get Set, the Beneteau Cup Virtual Platform is About To Commence!
21 May 2020 | Beneteau
Registration for the Beneteau Virtual Cup is now open! Take the helm of the new Oceanis 40.1 in a 500 nm virtual loop around the Balearic Islands, with the start and finish taking place at the Beneteau sea trial base in Port Ginesta, Spain. The start will take place in Port Ginesta May 21st at 12:00 UTC (Midnight 21st May).
The Virtual Regatta is a free online strategic game that is very popular with sailing enthusiasts during races such as the Route du Rhum and the Vendée Globe. Enjoy plotting the best course according to weather systems and getting the most of the boat's performance. It is a great way to share our passion for sailing with Participants go in the chance to win 1 of 3 Beneteau Stand Up Paddle Boards!
Check out the Details here:
1.       Dates and course – the BENETEAU CUP will start on May 21st at 12:00 UTC from the Port Ginesta base.  The route includes a tour of the Balearics and an arrival in Port Ginesta. This should take 4 to 6 days depending on the weather conditions. (Yes, you are right, for some of you might not know, the weather in this game shows current weather conditions from the real world!)
2.       Your boat – Your sailboat is the Beneteau Oceanis 40.1, which is being modelled to be integrated into the game. 
3.       Boost your boat (fullpack)– The game itself is free as well as owning your Beneteau 40.1. But to increase the boat performance, you will need a 'fullpack' to boost your boat. The fullpack is made up of paid options*(valued to 15euros).
4.       The prize! – 3 Beneteau paddles (499euros: https://laboutique-beneteau.com/fr/stand-up-paddle/334-stand-up-paddle.html)
·         One will be awarded to the winner
·         The other 2 will be awarded to the lucky draw winner from the top 1000 sailors.
Find out more through the Beneteau page here: https://www.beneteau.com/en/beneteau-evenement/beneteau-cup-virtual-regatta
See the Virtual Reggatta porthole here:
https://www.virtualregatta.com/en/offshore-game/