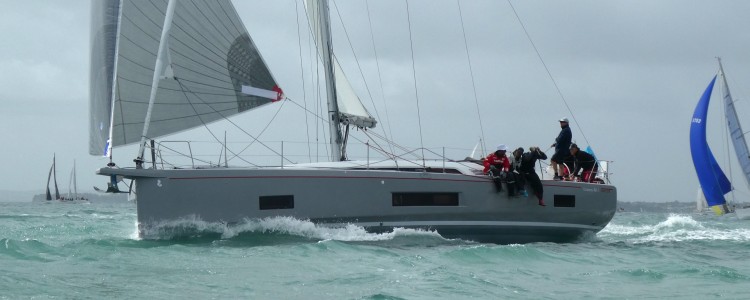 "First library to Russell" on new Beneteau 46.1 in Coastal Classic
20 November 2019 | 36 Degrees News
With chilled beers and iced rum, the debrief aboard Beneteau 46.1 'Checkmate' unfolded in style while crew joked about being the "first library to Russell" in this years' Coastal Classic. 
The saloon bookshelf is just one of the numerous cruising features on the newly commissioned boat which finished 5thonline and on handicap, as well as being the first production boat and first cruising boat to finish the annual 120 nautical mile race from Auckland to the Bay of Islands.   
Owner Aaron Young says Checkmate is an "absolute weapon" in 20+ knots, and their result exceeded his expectations given they were in one of the event's most hotly contest divisions. 
"With the twin rudders and plenty of form stability Checkmate sits on the chine and is actually bloody good to sail. The 20 mile beat in from the Brett to Russell in a dying breeze had only one boat from Division 1 pass us, as we extended on all our main competitors," he explains. 
He says one of the highlights was two-sail reaching doing 10-11 knots for most of the day, extending on many of the "far more racey" boats around them while also gaining a top speed of 16.4 knots.  
Since taking ownership of 'Checkmate' earlier this year, Aaron has had new sails locally built by North Sails, including a new code zero which proved very useful to have, especially during the first tactical part of the race. 
"Getting out of the harbor is surprisingly critical. As usual it got lumpy and windy across Bream Bay and we stayed pretty well on the Rhumb line, being conscious to be amongst the outer most boats. The brand new North Code Zero was spot on when needed and helped to keep us pressing low," he explains. 
The breeze freshened up to see puffs of 30+ knots, which Aaron says were handled very well by Checkmate whose crew enjoyed a tactical, fast sail into the Bay of Islands. 
"I can say hand on heart that we pushed the boat pretty hard, and after analysis couldn't find many minutes where we could have gained more time. To cap that off the ice was cold with the rum, the beers were perfect in Russell when we got there, and everyone had a comfortable dry place to sleep – the bonus of a cruising boat!" he says. 
In addition to the generous fridge/freezer space, other perks of the 46.1 which Aaron is enjoying include visibility from the light, bright interior, and big wide cockpit for easy shorthanded sailing. 
"The cockpit is superb for cruising and shorthanded racing – it's easy to do anything while sailing. We won the SSANZ two handed cruising division on line and handicap, proving how well she goes shorthanded," he explains. 
For a racer at heart, Checkmate is ticking all the boxes for Aaron who wanted a racer/cruiser that would also get his children interested in sailing.  
Above:Photo//Breeze Magazine - taken in a photoshoot earlier this year
Aaron will be taking a backseat in the RNZYS Cruising series as crew for his wife and children, and is currently doing the Rum Race Series with more events lined up for summer as well as some Christmas cruising.   
"We're really pleased to see Aaron and his family enjoying the new boat and getting awesome results already. It's the first model of it's kind in New Zealand and we're excited to give more kiwis the opportunity to experience this level of cruiser/racer", says 36 Degrees Brokers owner Conrad Gair. 
Checkmate was also on display earlier this year at the Auckland on water boat show, garnering much interest from sailors interested in one of Beneteau's newest models. 
For more information on the Beneteau Oceanis 46.1 please click here, or feel free to get in touch with the team to discuss your options.