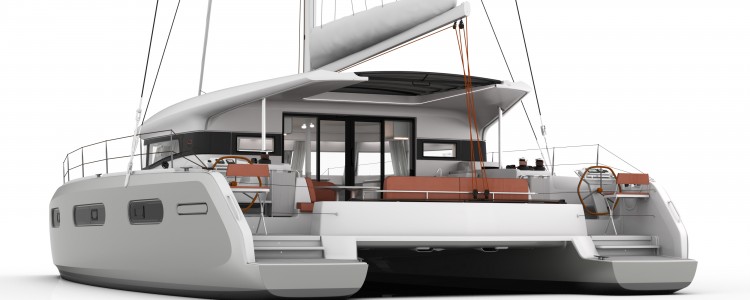 EXCESS Catamaran models launched by Beneteau Group
31 January 2019 | Beneteau
36 Degrees Brokers are incredibly excited to share Beneteau's latest news of the EXCESS catamaran range which has just announced it's first two models.
 
As part of the Beneteau Group, EXCESS Catamarans are an ambitious and innovative addition to the multihull market, with the Excess 12 and Excess 15 revealed at the Dusseldorf Boat Show in January. 
 
"With EXCESS 12 and 15, we have reinvented the whole sailing experience. The twin helm station aft, the vision and sensations it offers, the rig, the hulls, life on board, the materials. Everything has been designed to match this new way of living on the water," says Bruno Belmont, EXCESS Creative Product Manager.
 
A collaboration between acclaimed naval architect agency VPLP design, Patric Le Quement and Nauta Design, these are catamarans designed for sailors.
 
There's even an option to really enhance your performance capabilities with the Pulse line package offering taller rig and bigger sail area, dyneema steering cables and titanium hardware making for a very responsive driving experience.
 
The Excess 12 is the entry level into this line, with a length of 38.5ft, a beam of 24.1ft, and a draft of 4.5ft, and is available in multiple configurations depending on it's intended use, whether that be private or charter use.
The Excess 15 is 48.5ft in length, has a 26.4ft beam and 9.4ft draft – and with a 91.5ft rig this will sail like a dream and is also available in multiple layouts.
"This is a very exciting development from Beneteau and we're sure Kiwi's are going to be impressed with the changes and improvements from other multihull ranges," notes 36 Degrees Broker director Conrad Gair.
With twin helm stations aft being one of the most visual differences, Conrad says this opens up the cockpit area to provide a fantastic amount of space as well as giving you the best view of the sails while helming, with control panels still available at your fingertips. 
"A massive amount of research and development has been put into the Excess Catamaran design, and you can see popular aspects of a variety of other multihull brands which have been incorporated to create something entirely different, and more focused on the private owner who enjoys sailing, relaxing, and entertaining" Conrad adds. 
To read more about the Excess 12 and 15 catamarans please click here, or contact our 36 Degrees team on (09) 9031001 for more information about how to own one in New Zealand. 
Click below to watch the EXCESS Reveal video
About EXCESS Universe: 
EXCESS is a new Brand of Group Beneteau launched in 2018 in Cannes. EXCESS breaks away from the codes of classical sailing with a brand dedicated to new sailors, expecting new ways of living at sea. EXCESS is made for them. Shapes and spaces, everything is designed to meet the requirements of these generations who wish for a modern, fast and beautiful catamaran.