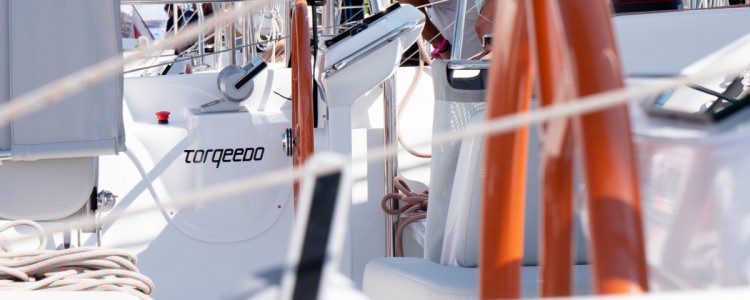 Electric Excess 15 - Peace on the Water
7 September 2021 | 36 Degrees News
"Sailing is all about efficiency; about being lean and in touch with nature. Ninety per cent of today's catamarans have focused on luxury and lost touch with the sensations - with the emotions - of sailing. At Excess, we build catamarans for sailors: catamarans that connect the skipper to the wind and waves, but still offer enough amenities for friends and family to join the adventure with pleasure."
In 2019 Beneteau launched their Excess Catamaran line, introducing the world to their latest and greatest sailing cats, with three models between 11 and 15m.
The new Excess 15 Hybrid brings peace and tranquility at sea. Beneteau- Excess's newest collaboration with Torqueedo brings the latest technology in hybrid engines in their new range of catamarans.
Torqueedo is renowned for being a market leader in electric mobility on the water, developing and manufacturing electric and hybrid drives from 0.5 to 100 kW. Characteristics of their brand include uncompromising high-tech focus, maximum efficiency, and complete system integration
Introduced at this year's Cannes Yachting Festival, this innovation features twin Deep Blue 50 kW electric sail drives in cooperation with ZF Group. There are two Deep Blue high-capacity lithium-ion BMW i3 batteries, and a full energy management system for harvesting green energy and charging the boat's batteries while underway.
This system produces all the energy needed to power everything onboard, with a hydrogeneration system most functional at a cruising speed of seven to eight knots.
The electric drive engines result in improved maneuverability, with better acceleration and stopping ability.
Beneteau- Excess aimed to bring the tranquility back into sailing, with owners being able to enjoy all onboard luxuries without the noise and fumes of a running generator. This fully electric engine uses no fossil fuels and is just the beginning of Group Beneteau's current goals of undertaking hybrid engine projects across a wide variety of brands and boats in efforts to further reduce the brand's carbon footprint.
Find out more about NZ Delivery here.