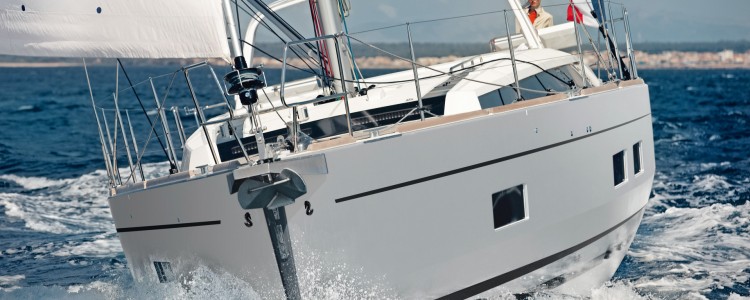 Oceanis 55 to defend 36 Degrees Brokers winning title in 2018 BOISW
18 January 2018 | 36 Degrees News
36 Degrees Brokers' will be back to defend their division winning title in this year's Bay of Islands Sailing Week, this time on a stunning Beneteau Oceanis 55.
Following a victorious end to last year's iconic kiwi event on the Oceanis 41.1, the team are excited to be racing her elder sibling, the Oceanis 55, from 24-26 January.
"It's a fantastic chance for us to participate in this event which attracts hundreds of boaties every year, and we're looking forward to showcasing the 55 to the entire fleet, as well as giving people the opportunity to take a look onboard before and after racing" says Conrad Gair, owner/director for 36 Degrees Brokers, the New Zealand agent for Beneteau.
Along with her owners who are new to sailing, the boat will be crewed by a mix of 36 Degrees staff and guests over three days of racing around the stunning islands and bays which the area is renowned for.
The Oceanis 55 is a comfortable racing option while also having the potential to be competitive in her handicap division. Enjoyable features during the week will undoubtedly include the smart and spacious cockpit layout where all sheeting comes back to the helm station, along with the 45-degree companionway and the large volume living space downstairs.
Simple onboard systems allow the Oceanis 55 to be easily crewed short-handed, although for an event like Bay of Islands Sailing Week there is ample room onboard for a crowd. Whether you're moving around on deck or enjoying the space downstairs, everything can be done whilst under sail. Making a cup of tea, preparing lunch, using the bathroom, or adjusting sails can be carried out with ease due to the raised chine hull shape which makes for a fast and comfortable heel angle.
If you're interested in buying a similar-sized Beneteau, the Oceanis 55 will be available to check out before and after racing and one of our team members will happily talk you through her features. Please get in touch to arrange a time, and feel free to pop into our Opua-based office if you're passing by.
This year will mark the events' 16th edition and it will be the second time 36 Degrees Brokers has taken part in the event which is regarded as one of the Southern Hemispheres premiere sailing regattas.
Racing kicks off next Wednesday, 24 January to 26 January. 
If you're interested in looking at the next version of this craft from Beneteau, the NEW 55.1 has now been launched. Click HERE to check it out.