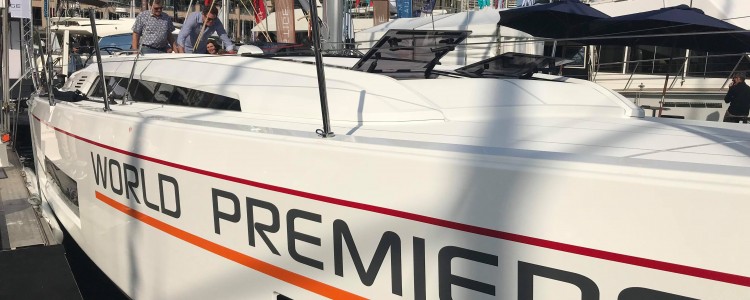 Buzzing vibes at the Sydney International Boat Show
8 August 2018 | 36 Degrees News
Positive feedback was flowing at the Beneteau stand during the Sydney International Boat Show last week and during the weekend, with the latest innovations and designs from the market leading production boat company sparking hot discussions.
36 Degrees Brokers had a firm presence at the stand and were proud to welcome a good showing of kiwis onboard some of the eight stunning Beneteau vessels on show.  
"People were really impressed with the new developments from Beneteau in their New Generation range as well as the diversity of features across the entire collection," says 36 Degrees owner Conrad Gair who also noted the excitement around seeing the Oceanis 51.1 for the first time – a model which is set to display at the Auckland International Boat Show in under two months' time.
The show was said to have hosted almost 60,000 visitors over 5 days, with a perfect setting at Cockle Bay in Darling Harbour.
The Beneteau stand included the hotly anticipated Oceanis 46.1 which made its World Premiere, along with the Oceanis 51.1, Gran Turismo 50, and Swift Trawler 50 which all made their Australian debut.
Other boats included the Beneteau Oceanis 41.1 Performance version, the Oceanis 38.1, Monte Carlo 5, Gran Turismo 40, Gran Turismo 50 Sport Fy, and Swift Trawler 35.
Some highlights of the New Generation range were the versatile deck layout, BBQ under the seat aft, and highly unique retractable davit system which creates a very user friendly space down the back of the boat. 
"Talking points of the new boats also revolved around how the new hull and rig design offers unreal performance options, and the increased volume means there's optimum comfort and space down below," adds Conrad. 
With the show now in our wake, we're now looking to the Auckland International Boat Show where we'll have a firm presence, along with a private showing of additional Beneteau Boats and brokerage vessels on our Sales Dock at Pier 21.
If you missed us at the Sydney Show please feel free to pop in and see us at our Auckland office in Westhaven.
Or to talk through any queries you have regarding new Beneteau's, we're always up for a chat on the phone.
Call 0800 363 347 to talk more!