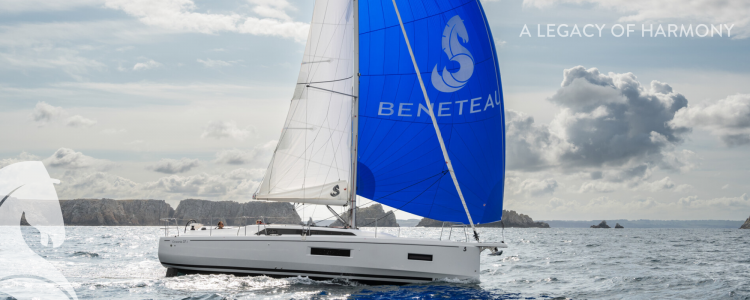 Benteau Oceanis 37.1 - A legacy of harmony
1 September 2023 | 36 Degrees News
The eighth model to be created, completing the Oceanis Line!
The Oceanis 37.1, a striking 37-foot vessel, stands as a testament to the advancements in design and engineering from the seventh generation of Oceanis cruisers. This new model, the eighth to grace the seas under the BENETEAU banner since 2017, serves as the crowning achievement of the line, setting a new industry benchmark for excellence.
Redesigning a popular model is a challenge nonetheless, especially when it comes to a favoured design like the Oceanis 38.1, which enjoyed nine years of success on the waves. The brief given to the skilled hands of Marc Lombard and Nauta Design encompassed two crucial elements: enhanced volume and improved performance. These goals were pursued while safeguarding the hallmark user-friendliness that has defined the Oceanis series since its launch in 1986.
Elevating the legacy of the Oceanis fleet, the 37.1 redefines the standards of innovation, sustainability, and intelligent craftsmanship. Every facet of this versatile cruiser is crafted with both sailing ease and onboard comfort in mind. Stepping aboard, one is greeted by an interior expanse that rivals even that of a 40-footer, defying expectations. The seamless transition between interior and exterior spaces imparts a sense of boundless openness. The redesigned layout, following the success of the Oceanis 30.1 and 34.1 models, eliminates the need for a backstay, contributing to a clean and uncluttered cockpit.
Its user-friendly design and intuitive handling make it the perfect selection for entry-level boat owners, or seasoned yachties seeking hassle-free ownership. Whether you're planning coastal cruising, club racing, or eager to explore far-off horizons, the 37.1 is well equipped to handle open seas. Combining ease of use, exceptional comfort, and eco-consciousness, this versatile cruiser promises an unforgettable journey!
Key Features:
Flared hull with a rib maintaining fluid lines
Optional 2 or 3 Cabin layout
Optional Standard or First Line package
Optional Inshore or Coastal Raymarine package
Square-top main sail and furling genoa with First Line version
All instruments located at Starboard helm
Electric motor with a 12 kW pod 
10 kWh Batteries
Beneteau's Oceanis 37.1  is set for its global premiere at the Cannes Yachting Festival from the 12th to the 17th of September 2023. As this captivating vessel, it's clear that this vessel will leave a lasting impression on the sailing community.