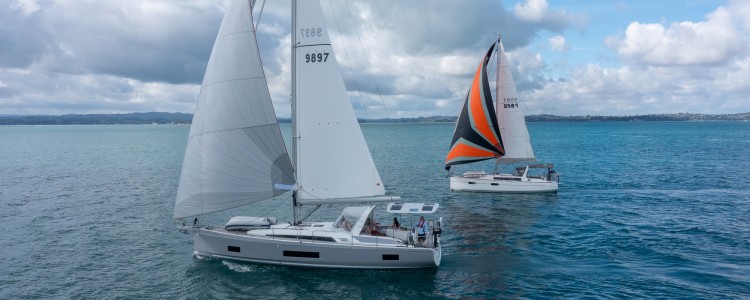 Beneteau's, Beach Games, Bevvies and Banter
26 January 2023 | 36 Degrees News
We all waited patiently for it, and when it finally arrived, the day did not disappoint! 
On Saturday 21st Jan, members throughout New Zealand's Beneteau Owners Club came together for a day of socialising, beach games, wine tasting and celebrating the magic that is the Beneteau brand. 
After a disappointing postponement of last year's Rally, the weather was finally on it's best behaviour and presented the perfect conditions for the cruise from Auckland to Man O' War Bay.
36 Degrees and the PIC team journeyed across to Waiheke with an array of Power and Sail boats from the Beneteau range, including a Beneteau Oceanis 38 and 46.1, a Beneteau 423, a Beneteau Sense 46 and a Swift Trawler 34. 
A good humored bunch, we quickly started receiving some hilarious entries for our running photo competitions. With some amazing prizes up for grabs, thanks to our generous prize sponsors, entertaining snaps of the day's events started rolling in.   
Shortly after our arrival into Man O' War Bay the beach games, beverages and banter got underway. Following this we journeyed up to the restaurant to enjoy a wine tasting, platters and to wrap things up, a very generous prize giving, thanks to our good friends in the marine industry. Winners were showered with an array of different prizes including impressive vouchers for products, maintenance, and service, Hutchwilco life jackets, Fusion speakers, Tool bags, and goodie bags from Boating Mag, RNZYS and co-hosts PIC Insurance Brokers.
A huge thank you to prize sponsors for their continued support. Our prize sponsors are industry leaders in the field who we often work closely with - we highly recommend their product and services and encourage everyone to get out and support their businesses. 
PIC Insurance Brokers, AB Marine, Boating NZ, Gloss Boats, RNZYS, Hauraki Fenders, Ovlov Marine, Craft Covers & Interiors, Absolute Marine, Independent Riggers, Family Boats, AES, Chalmers Marine
Want to see more of the rally? Check out the video here! Now up on Youtube. 
We are so thrilled to see the network of Beneteau loyalist grow and hope we can continue to welcome new owners from across the nation.
JOIN THE CLUB!
If you're a Beneteau owner and not part of the club, feel free to contact us - it's free to join and gives you exclusive access to member discounts with our preferred suppliers as well as the opportunity to be part of events like the Owners Club Rally.