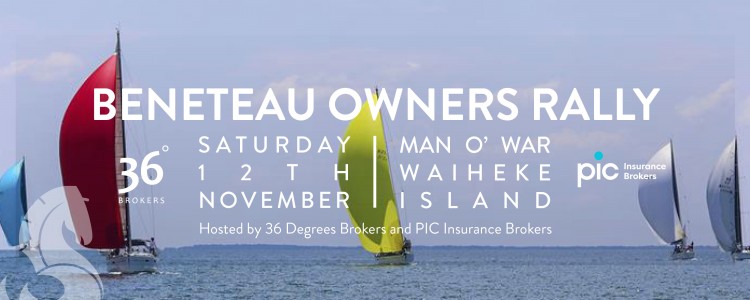 Beneteau Owners Rally One Month Countdown!
13 October 2022 | 36 Degrees News
Let the ONE MONTH Countdown begin! The fizz levels are high for 36 Degrees and PIC Insurance Brokers with the return of Beneteau Owner's Rally. Join us on Saturday November 12th for a fun-filled day of boating and a soiree celebrating all things Beneteau. 
Event Details
This year, we'll be kicking off at Browns Island and sailing through to Man O' War Vineyard on Waiheke Island. After dropping anchor just off shore, you can settle in for an afternoon of games, nibbles, a wine tasting and a special prize draw with some great gifts up for grabs.
Register HERE
Prizes Up For Grabs
We are absolutely committed to making this a relaxing and enjoyable day out, but that doesn't mean there won't be plenty of competitions and prizes to be won along the way! Winners will walk away with an array of prizes from our very generous Prize Sponsors.
Prize Categories:
Mystery Elapsed Time - Chosen On The Day
Best Picture Taken On The Rally
Longest Fish By Length - Picture Taken On A Measure Board
Mystery Length Fish - Picture Taken On A Measure Board
Upload your snaps to Instagram with the hashtag #BOCNZRally or Text/WhatsApp your photos into Stacey on 021 024 20971
Our prize sponsors are industry leaders in the field who we often work closely with - we highly recommend their product and services and encourage everyone to get out and support their businesses. Take a look at who we have onboard so far! 
PIC Insurance Brokers, AB Marine, Boating NZ, Gloss Boats, RNZYS, Beacon, Hauraki Fenders, Ovlov Marine, North Sails, Craft Covers & Interiors, Absolute Marine, Independent Riggers, Family Boats, AES, Chalmers Marine