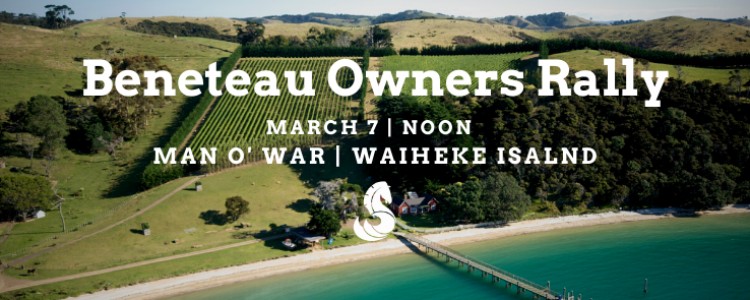 Beneteau Owners Rally 2020
21 January 2020 | Beneteau
Calling all Beneteau Owners – mark your calendars and get onboard for the annual Beneteau Owners Rally to Waiheke Island. Hosted by 36 Degrees Brokers and PIC Insurance, join us for a fun-filled day of boating, beach games, socialising, wine tasting, and prizes. 
Starting off at Browns Island and finishing up at Man O' War Bay on Waiheke Island, there will be a fun array of games and prizes to join in on. Once at the stunning Man O' War vineyard, settle in and enjoy an afternoon ashore featuring a wine tasting session and nibbles.
Read about last years event here - a fantastic event with an amazing turnout despite heavy rain and difficult conditions.

We encourage all Beneteau owners to get involved in what is a great chance to meet new boating friends and share some time on the water with family and friends. While this is absolutely intended to be a relaxed and fun day out, there will be plenty of competitions and prizes to be won on the day. We're very fortunate to have some fantastic industry friends and preferred suppliers who have put up prizes for the day, and encourage you to support their businesses.
Entry is $25 per person and includes wine tasting, food platters, and prizes.  
Please register your attendance with us at info@36degrees.nz with your Boat name and number of crew.
Once registered, further details including pre-rally information and a detailed schedule will be sent out in a rally pack.
If you're a Beneteau owner and not part of the club please contact us - it's free to join and gives you exclusive access to member discounts with our preferred suppliers as well as the opportunity to be part of events like the owners club rally.